New Poem by Me: Bolts in a Fabric Shop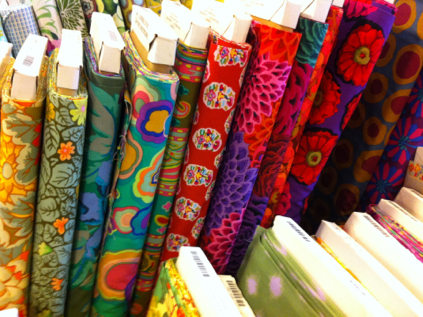 Bolts in a Fabric Shop
Gorgeous color all lined up, waiting
on inspiration, cash or diligence
potential energy, gaping
on tip toe tender-hooks
leaning on one another
in solidarity of anticipation
Who will take the initiative
out of yawning boredom or need for balance
out of creative barrenness or largess
who is thriving enough
to seize the day
to defy inertia
and bang on fruition's door
with the tenacity these bright hues insist upon, demanding
time and focus, follow through and completion.
Not to be purchased and set aside to languish on a different shelf,
only a half hearted faint aspiration, with just a flicker of possibility.
Not to stay moldering in idleness in the store either
pining to bolt out the door with each and every customer.
Yearning to be used, needed, appreciated
to be combined with others
in harmonious or exciting relationships.
To cause someone to be happy
for them to be thrilled with you
exclaiming how marvelous you are –
Making feasible the sumptuous gladness afforded by
the contemplation and creation of a wonderful project
as well as the triumph of its emergence and accomplishment
the validating rapture of its initial reception of approval
and the quiet delight in its ultimate utility…
The selfless joy of laying oneself out
for a higher cause, to be cut up
and spliced together for something greater
is not self sacrifice but fulfillment.
Redolent with hope of service
we want to be sewn up
integrated into one beautifully brilliant piece,
fused, quilted in collaboration
tickled and needled
we are in stitches, laughing
often doubled over
complimenting each other
released –
no longer wrapped around adjacent but stiff cardboard skeletons
isolated in a crowd, and loitering in awful suspension of purpose.
Polly Castor
3/20/13