Movie Review: Hidden Figures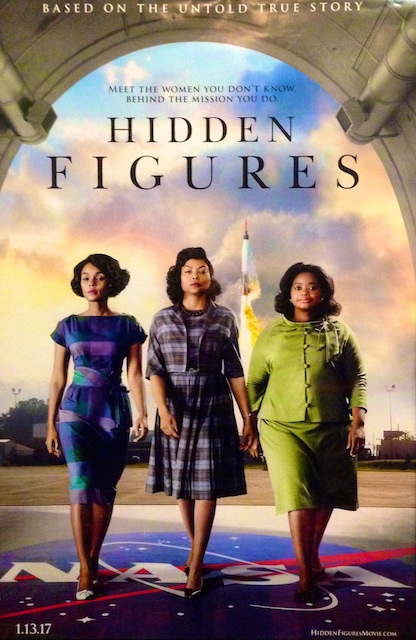 This is the best movie I have seen in a long, long time. Our full movie theater erupted in an ovation when it was over. It is truly a testament to the human spirit. I loved it, and give it an enthusiastic 5 stars.
This is the story of three brilliant and plucky black women who worked for NASA in the 60's, and were the human calculators behind the space program. All three overcame much, all in different ways, to be able make the huge contributions that they did, back when they might have to walk a half mile for a bathroom. With supportive men at home behind them, and a spotty few giving them a chance, they seized what they needed, in order to utilize their exceptional talents at the highest levels. I am bursting with admiration for what they did and how they accomplished it.
Not only is this a great story made all the better because it is true, it was told expertly, with lots of wonderful cinematographic nuances, and multiple victories building toward the finale. John Glenn acquitted himself admirably, respecting these ladies from the start, when others did not yet, and the boss (played well by Kevin Costner) knew talent when he saw it and came to stake everything on it.
As a woman engineer myself– one of three (all white) women in an engineering class of 5,000 decades after this–I could appreciate all too well what they were up against. I can't applaud these women enough, nor this film for sharing their remarkable story.
Don't miss this movie, and try to catch it on the big screen!