Purple Cauliflower Soup (Recipe)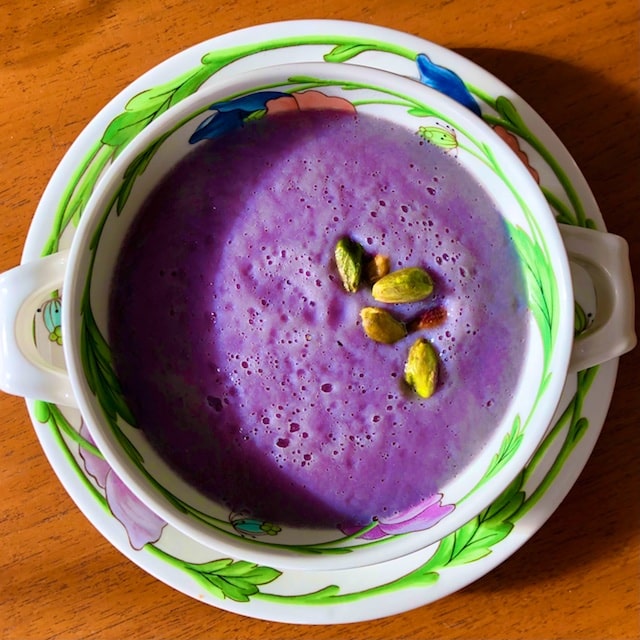 When I posted the above photo on my recent food around here post, lots of you asked after the recipe for this soup, so here it is!
The color is surprising and great for spring, but even better, this soup is easy and inexpensive to make, while feeling very fancy. To top it all off it is delicious!
It used to be you'd only see purple cauliflower seasonally at the farmer's market, but now my regular grocery carries it all year long. If you've ever wondered what to do with it, this recipe is your ticket. You know what they say, we should be "eating the rainbow," so here is a wonderful bit of purple for your plate!
Depending on your broth, it may really need the addition of salt at the end.
Leftovers will gray out in the refrigerator, but fret not, the purple color surges back once reheated.
Purple Cauliflower Soup Recipe
1 large head of purple cauliflower, broken into florets
1 yellow onion, chopped
5 cloves garlic, chopped
2 Tablespoons olive oil
4 cups vegetable broth (more if your cauliflower is super huge)
salt to taste
Heat oil in a large pot. Add onion and garlic, and sauté on medium-low heat for about 10 minutes.
Add purple cauliflower and veggie broth and bring it to a boil. Once boiling, lower heat to a simmer, and cook covered for about 30 minutes, until cauliflower is tender.
Transfer to a blender and puree until smooth.
Serve hot, garnished with something green. I used pistachios, but green herbs or micro-greens would be great too.
Enjoy!