Book Review: Painted Horses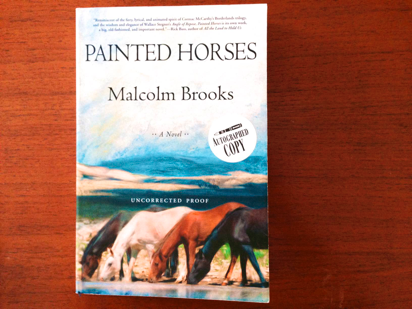 This novel was a refreshing change of time and place for me. It was set mostly in the mid 1950's in Montana. The wild west was tipping toward a new era, where history and tradition would clash with progress. The book mixes threads of horse culture, Native American culture, archeology, and big business in an unusual and unexpected way.
I loved a lot about this book: the panoramic scenery of open range and big sky, the detailed passages of masterful horsemanship, and a female protagonist with "sand" who has multiple unlikely chances for proving herself in a career dominated by men. She comes to Montana to determine whether or not there are any historical artifacts that would prevent a canyon bordering the Crow reservation from being flooded for a dam.
For me, the book's drawback was that I didn't need so much backstory for the two main characters, which were provided through extensive, repetitious flashbacks. Also, I shouldn't have been surprised by the twist near the end, which I wish could have been different, but understand all too well.
I enjoyed this sweeping novel, even with its myriad detours, and give it four stars. It was distinctively different than anything else I've read recently, which made it especially worthwhile.
(As you can see from the book jacket, I read an autographed advance copy of this book, which was complimentary– a fact that in no way influenced this review.)