2018 Reading Challenge Complete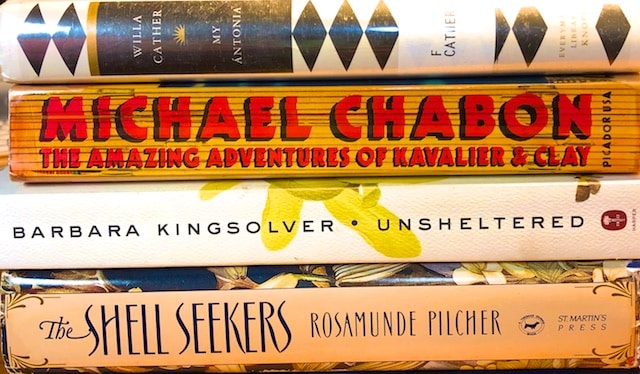 Well, my Reading Challenge for 2018 is coming to a close. Below you can see what I read. I read 56 books this year, down a bit from last year, mostly due to some overly long, slow, or ambitious choices.
The ones in color below are links to blogs I wrote about them.
Four of others are still in process, and I suppose it is possible they may be done by December 31, but if I have a lot of work to do over holidays, then maybe not. We'll see. The way I see it is I still met my goal of 52 completed, which was my original goal, so I'm good either way.
I love the structure and accountability doing these reading challenges brings to my life. I find I choose a more balanced variety this way. Thanks for joining me in it!
On New Year's Eve I'll post next year's reading challenge, so as usual, let me know what you'd like to see on it. And tell us in the comments what you read this year that you really liked!
Reading Challenge for 2018 Completed:
A classic: My Antonia
A mystery: The White Mirror (not yet finished)
A love story: Theory of Love
A book of poetry: Jubilee and Other Poems
A cookbook: Salt Fat Acid Heat
A memoir: Praying for Strangers
A biography: Di Vinci (not yet finished)
A book of essays: Feel Free
A long book: The Weight of Ink
A saga: The Shell Seekers
A series: Mark of the Lion Series
A page-turner: Midnight at the Bright Ideas Bookstore
A coffee table book: Masters Collage
A book of chick-lit (or the guy equivalent): Before and Again, Portrait of a Sister
A book of fantasy or science fiction: The Golem and the Jinni
A self-help book: Playing Big
A beach read: The Twelve Bullets of Samuel Hawley
An audio book: One in a Million Boy
An adventure book: The Gold Coast
An educational book: Language of Color
A children's picture book: Flotsam
A young adult novel: Ramie Nightingale
A book about art: But is it Art?
A book about spirituality: Science and Health with Key to the Scriptures (again)
A book about science: Lab Girl
A book that promotes peace: GodDependency
A book about nature or being outside: One Man's Wilderness
A book about lifestyle, finances, or time management: 4 Hour Workweek
A book about happiness, success, or ingenuity: Mastery
A book about business, communication, or networking: Thank you for Being Late
A book to help you get better at something: Arteffects
A book about reformation or transformation: The Art of Possibility
A book about a remarkable woman: Mary Baker Eddy (huge and not yet finished)
A book about Latinos or African Americans: The Underground Railroad
A book about immigrants or refugees: Exit West
A book that won the Pulitzer Prize: The Amazing Adventures of Kavalier and Clay
A book that won the Man Booker Prize: Lincoln in the Bardo
A book that won the Caldecott Medal: Journey
A book that won the Newberry Medal: The One and Only Ivan
A New York Times bestseller: Little Fires Everywhere
A book of historical fiction set in America: Unsheltered
A book of historical fiction not set in America: The Clockmaker's Daughter
A book with a one word title: Arabella
Fiction printed in 2018: The Great Alone
Non-fiction printed in 2018: Enlightenment Now (not yet finished)
A book written in the 19th century: Eight Cousins
A book written in the 20th century: Enchanted April
A book from an independent bookstore: The Book that Matters Most, Young Jane Joung
A book on loan from a friend: Prisoners of Geography
A book checked out from the public library: The Yellow Eyes of Crocodiles
A book of fiction you own but have never read: Edward and Lucy
A book of non-fiction you own but have never read: Mindset