Pablano Fish Tacos (Recipe)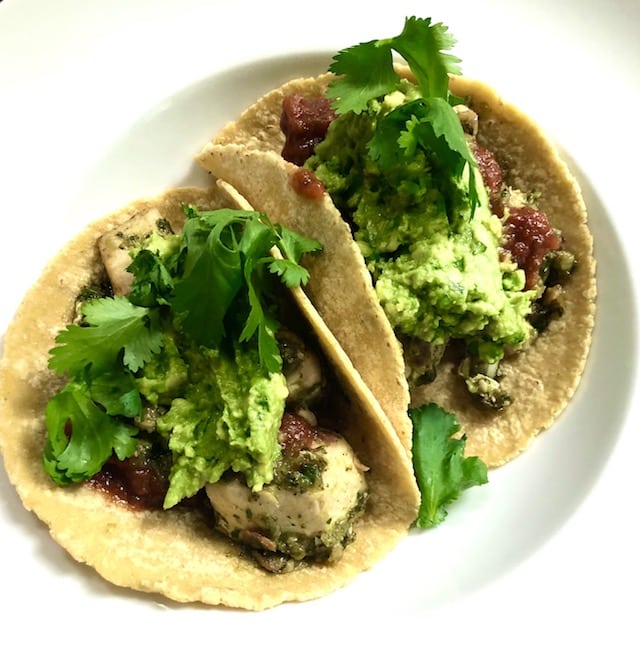 These healthy fish tacos are delicious and easy to make. If you make more of the sauce, these can be on quick repeat in your weekday rotation, since the only thing that takes time is to roast the pablano peppers.
Not sure what a pablano pepper looks like? See the photo below. They are not spicy but are uniquely flavorful. If you want to make these spicy, add the jalapeno pepper, or garnish with a spicier salsa or guacamole. We use mild salsa from our farmer's market, and a 1/2 recipe of this homemade guacamole, which is not spicy either. Then the textures and the pablano flavor is what sings.
This makes four tacos, perfect for serving two people.
Also, I buy my mahi mahi fillets frozen at Costco. You can use other types of fish for these tacos, but the texture of mahi mahi stays in chunks instead of flaking. You could use either swordfish or halibut, but those would be much more expensive. Any firm white fish will do. Our mahi mahi fillets cut evenly into eight chunks each, perfect for four chunks per taco.
Pablano Sauce for Tacos
1 poblano pepper
1/2 yellow onion, peeled and chopped
2 garlic cloves, peeled
1 lime, juiced
1/4 cup fresh cilantro
1/4 jalapeno (optional)
Set your oven rack in the middle of your oven and turn on your broiler. Broil your pablano pepper (or multiples if you are making more) until charred on all sides, turning them over until they are fizzy, soft, and collapsing, about 15 minutes. Then place them on your counter under a inverted bowl as a dome, or put them in a bowl with tight plastic wrap. The point is that you want them to steam until they are cool.
Then remove the charred skins and seeds. Rinse them under water to remove the last of the bits.
Puree the pepper in a food processor with the onion, garlic, lime juice, cilantro (and jalapeno if using) until smooth.
To Make the Pablano Tacos
2 fillets of mahi mahi, cut in even chunks
2-3 Tablespoons good olive oil
Sea salt and freshly ground pepper
Pablano sauce (above)
4 soft corn tortillas
guacamole and salsa for serving
cilantro leaves for garnish.
Heat the oil in a large skillet over medium-high heat. Add the fish to the pan and sprinkle with salt and some freshly ground pepper. Cook, stirring occasionally, until firm and cooked through, about 8 minutes.
Meanwhile warm up the corn tortillas one at a time in a dry pan set on medium-low, about a minute on each side.
Turn off the heat on the fish and add the pablano sauce, stirring to thoroughly combine.
Serve immediately in the warm tortillas, with fish and pablano sauce at the bottom, salsa next, and topped with guacamole and cilantro leaf garnish.
Yum! Enjoy!