Recipe: Great Guacamole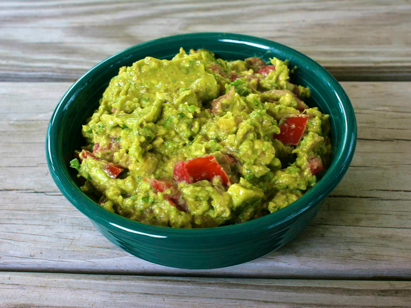 This is so good on nachos with black beans and cheese, or with raw veggies, or on sandwiches… This is best when there are enough people or sufficient enthusiasm to eat all of it fresh. But in the unlikely event you have any left over, storing it in the refrigerator with an avocado pit immersed in it will help it keep its color. This recipe has been adapted by me over a long period of time; the original version can be found on page 108 of Mollie Katzen's Moosewood Cookbook. This is the gastronomic essence of summer!
Great Guacamole Recipe
2 large ripe avocados or 3 tiny ones
2 tablespoons fresh lime juice
2 large garlic cloves, pressed
2 tablespoons of minced fresh cilantro
1/2 teaspoon of salt
1/2 teaspoon of cumin
1/2 tsp of chili powder
1/4 bell pepper, minced
1 diced ripe tomato
Remove avocado skin and seed, and place with the lime juice in a medium bowl. Mash it well with a fork. Stir in remaining ingredients and enjoy!
6 servings.