Monet Unit Study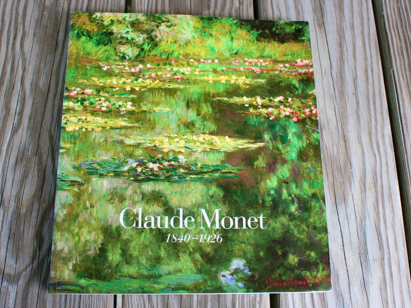 We've just finished a unit study on Monet. My youngest daughter and I read and studied a large variety of books, from adults ones to very easy children's ones. I've included photos here of the ones we liked best. We also watched library videos about Monet, and tried emulating his painting style.
My daughter used paintings by Monet that she liked, as inspirational writing prompts to write stories for her June writing project for her Bravewriter homeschooling curriculum (click here). She also wrote a factual report about Monet's life, which I've shared here below in below in green, for those who don't know it. She used the Monet stickers shown to decorate her report.
It was interesting how many times Monet would paint the same subject at different times of day and in different seasons. We learned that he was not painting objects so much as trying to record light. Contrary to our study of Van Gogh last fall (see here), Monet became a wealthy and famous painter in his own lifetime. Studying his work will make you want to paint!
Claude Monet (by Laura)
Claude Monet was born in November of 1840. When Monet was small, he loved to draw caricatures of the people around the family shop. Later, people paid him to draw them. Monet was very proud of his work. A local landscape painter by the name of Boudin, invited Monet to come paint with him. Monet discovered that he loved to paint. He went to Paris (against his family's will) to learn how. Only his Aunt supported him, giving him money when he needed it. Monet and some of his painter friends enjoyed painting out of doors and capturing the light. Camille often accompanied her friend, Monet, on his painting excursions. Camille had her first son in 1867. Camille and Monet were married some years later. At the time, in Paris, the only way to get your work sold was by showing at the Salon. The Salon was a juried show. The judges didn't like the new ways of painting everyday things, in an indistinct way; they preferred the old kind of painting, where everything was detailed and perfect. Monet and his friends did not care for this way of painting. They just wanted to give an impression of what they saw. So in 1874 Monet and his friends put together their own exhibit of their work. The public did not appreciate this new style either. One critic nicknamed them "The Impressionists," and this was not meant kindly. Four years later, Camille fell very ill. Her sister Alice, and her husband, came, with their six children, to help take care of Camille. After her long illness, Camille died. Monet was heart-broken. he didn't even pick up a paint brush for months afterwards. Alice and her husband, Ernest, lost all of their money soon after Camille's death. Ernest went to Paris to try to get a new job, while Alice took care of her six children, Monet's two, and Monet himself. A few years later, Ernest died, leaving Monet and Alice free to marry each other. That same year Monet's paintings started to get recognized as wonderful pieces of art. Everyone wanted to buy his paintings, especially people from America. In 1883 Monet and his family moved to Giverny. Their new pink house had a beautiful garden. Monet adored all flowers for their vivid colors, so he planted hundreds of different kinds of flowers in his garden. One of Monet's favorite flowers was the water lily. At his home in Giverny he had a lily pond filled with water lilies from all over the world. Monet loved to sit, with his easel and paints, on the edge of his lily pond, and paint the water lilies, with the reflections of the clouds in the sky and the trees. Spanning the lily pond was a beautiful Japanese bridge that Monet had built. Monet enjoyed that bridge too and it appears in a lot of his later paintings. Monet was getting old; a cataract had formed on his right eye making him almost blind. Now when he tried to paint he painted mostly with reds, oranges, and yellows. Monet was afraid to get an operation on the cataract, but in the end he had one done and was able to see as he once had before. Monet died in 1926 in his beloved house at Giverny. He was 83 years old when he died. He had lived to a ripe old age and had made the most of what life had to offer. Claude Monet opened many eyes to the world of art. He proved that there is always more than one way to do things and that you should always stand up for what you believe in.
Monet's home in Giverny is now a museum, and his gardens are still kept in order so that everyone may enjoy their beauty.