It's Strawberry Time!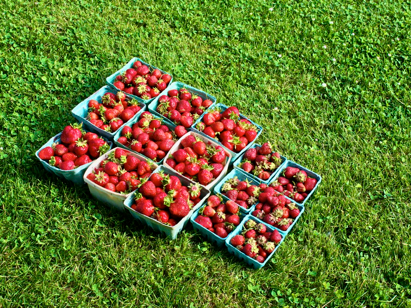 Don't you love fresh local & organic fruit when it's in season?
What did we do with this many strawberries?
First, 4.5 quarts were sliced thin and put in our dryer overnight. These sumptuously delicious bits make great snacks on long car trips or on strenuous hikes. (See in the photo how compressed they become after drying; they loose about 75% of their volume.)
Secondly, we made Strawberry and Rhubarb Crumble (click here for the recipe) which we ate hot with ice cream. (Some around here even ate it this morning for breakfast.)
Then we cut off the tops of the rest, laying them topside down on a cookie sheet to freeze separately before putting them in Ziploc bags for enjoying in smoothies. (That's what I had for breakfast…)
We saved a few of these for salads and general eating, and we will freeze and dry more before the season is over. All this made for fun family time as well as red fingertips! It was all so beautiful, I even took pictures of strawberry tops in our compost bucket!
How do you enjoy your strawberries?