Snow Photos from "Nemo"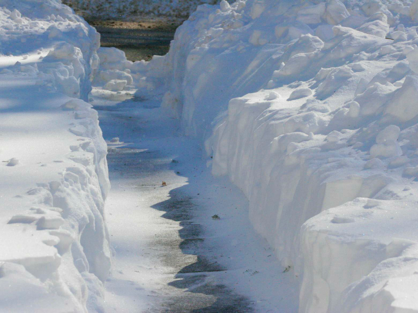 We only got 20 inches of snow during the winter storm Nemo, but I know people in Connecticut that got 36 and 40 inches of snow. I guess that's enough for folks to feel a need to name this storm? Fortunately, I know no one that lost power, which, after loosing power so much in the last couple years, was very welcome and made the whole event feel like a joyous holiday.
Other than the shoveling, that is! Our corner lot in a small town means we have extra sidewalks, but in all fairness, our driveway is shorter than most. Please note too that we're so hardy here that the next day church wasn't even cancelled.
In this post are both my photos and ones friends shared with me. All roads in Connecticut were shut down! The road sign shown below was taken in Pennsylvania… I don't know that I've ever seen that before! At the bottom, I also couldn't resist sharing a New Yorker cartoon and a Facebook photo of someone recommending not to leave your car windows open during a blizzard… You also might want to see this time-lapse video taken in Hartford.