NYC for PSA Show and Materials Fair (Photos)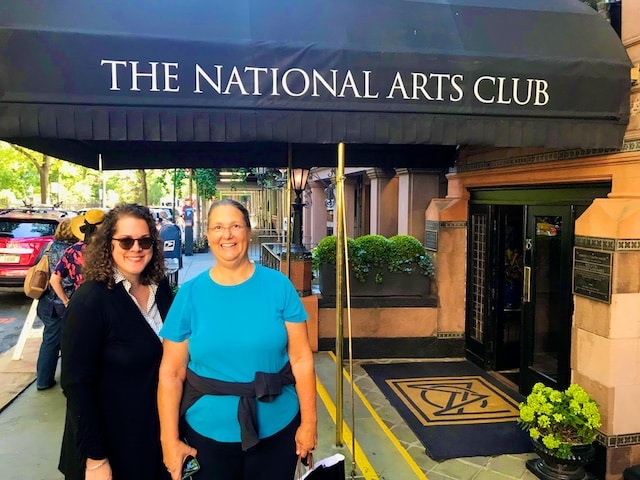 For the third year in a row, my friend (and your fellow blog reader) took the trip into New York City to go to the Pastel Society of America Show and Materials Fair at the National Arts Club. In the past, I've taken pictures of the show, but you can see the whole thing in a slide show here. Check it out; it is definitely worth seeing, but of course I want more abstraction in the show, instead of the mere nod you see there. It is an overwhelmingly representational show, and that's not likely to change.
A highlight of the trip for me was meeting Margaret who is the color specialist and actual maker of Roche Pastels, there from Paris. Her pastels are top of the line, pigment rich, and expensive at $20 a stick. She was delightful and I bought one stick of hers, a sparkly navy that I'll have fun with. In the last photo below you can see what else I bought; I didn't need much after having splurged in the IAPS "candy store" in June.
The weather in New York City was strikingly beautiful and I really enjoyed our walk to and from the train as much as anything. All the colors seemed extra saturated in the spankingly bright light. I was seeing compositions at every turn. You can check out what drew my eye in the photos below.