Recipe: Asparagus Egg Salad with Radish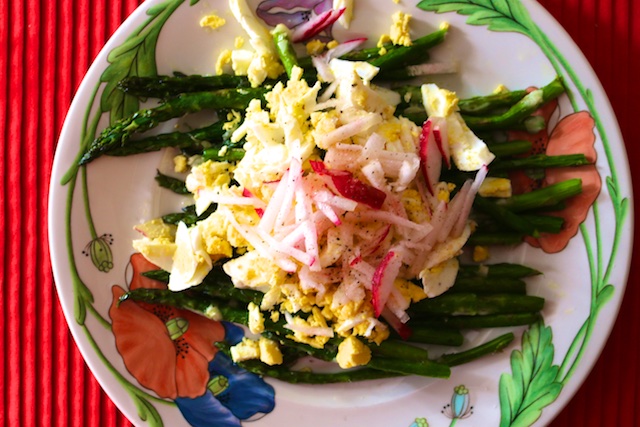 This is something we tried for the first time over the holidays. We really liked it, and we decided that it feels very French. It is perfect for a light lunch. This recipe serves two–one serving is shown above– but it is easy to multiply for more people. 
2 large eggs
2 large radishes, thinly sliced
one bunch asparagus
2 Tablespoons freshly grated parmesan
1 Tablespoon Dijon mustard, preferably Grey Poupon
3 Tablespoons good-quality red wine vinegar
6 Tablespoons good-quality olive oil, divided
2 tablespoons finely chopped chives (optional)
sea salt and fresh pepper
Preheat oven to 425ºF.
Hard boil the eggs, by putting them in a small saucepan and covering them with water. Bring the water to a vigorous boil. Put a lid on the pan and remove it from the burner. Let it sit for 15 minutes, before transferring the eggs to a container of ice water and putting them in the refrigerator until thoroughly chilled and easy to peel. This can be done ahead of time if you wish the dish to come together really quickly.
Snap the ends off the asparagus where they naturally break when you bend them. Put them in a pyrex pan with one tablespoon of olive oil and some sea salt and freshly grated pepper. Roast for ten minutes, until the asparagus is bright green and the edges are starting to brown. Take it out of the oven and sprinkle it with the freshly grated parmesan, returning it to the oven until melted, about two minutes. Remove the parmesan covered asparagus from oven and place on the center of two plates.
Make the dressing while the asparagus cooks. Combine mustard, vinegar, and 1/2 teaspoon of sea salt in a small bowl, and whisk to combine. Add 5 tablespoons of olive oil, whisking continuously to emulsify. You won't probably use all of this dressing, but it will keep nicely in the refrigerator for up to a week.
Peel and chop the eggs. Top the asparagus with the chopped egg and then the thinly sliced radish. Drizzle with some of the dressing, and garnish with the chopped chives, if you are using them, and a grind of fresh pepper.
Enjoy immediately. Isn't it surprisingly delicious?