Book Review: Cooked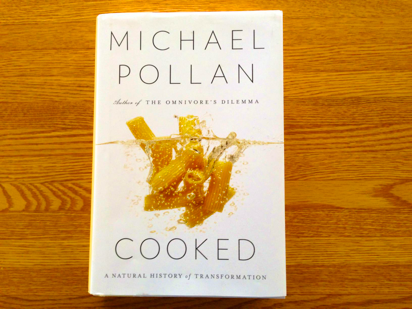 I became a fan of Michael Pollan's over his book The Omnivore's Dilemma which was a watershed read for me. This new book from him I enjoyed but found more spotty and laborious to get through than the former one.
Part of my problem with this book is that he covers in detail some things I am not at all interested in imbibing, notably southern barbecue and alcohol. I would have liked this book much better if I had just skipped those sections.
The book is divided up between forms of cooking done by fire, water, air and earth. The fire portion featured mostly whole pig roasts, never mentioning the amazing transformation vegetables make in roasting. The water portion discussed simmering soups and braises, which was more interesting to me. The air portion focused on bread, ranging from a Wonder bread factory to artisans perfecting their own whole grain stoneground flour, although I despaired at the absence of even a mention of sprouted flours. The earth part explored fermentation, where I learned much about the benefits of probiotics, including sauerkraut, cheese and alcohol.
My favorite story was of a nun in a Connecticut order who is a cheese maker with a PhD in microbiology from UConn. The traditional cheese she made in the convent utilized a wooden barrel and wooden spoon, which the health inspector insisted must be switched for stainless steel. She offered a test: put e-coli in a cheese made in the stainless steel drum and also in cheese made in her wooden barrel, and then let's see which is more healthy. The probiotics in her wooden barrel devoured the bad e-coli, but the cheese made in the sterile stainless steel drum was deadly. The health inspector let the nun keep her wooden barrel.
So if you want to read a detailed account of why onions make us cry, or discover how to make a sourdough starter, as well as countless other things, give this book a try. There are some great bits in here, but I felt like it was too much like wading through mud to get to them. You might rather consider listening to the audio narrated by the author as a more expeditious route through the 436 pages to the informative parts that will float your boat.
I mostly wish Micheal had visited an Ezekiel bread factory and researched the claims of the sprouted flour movement. I really regret this oversight, as I am curious what he'd have to say about it. Still, I like his narrative style and his intrepid interests in all things food, so I give this book 4 stars.