Savory Tuna Burgers with Sriracha Mayonnaise on Portobello Mushroom "Buns" (Recipe)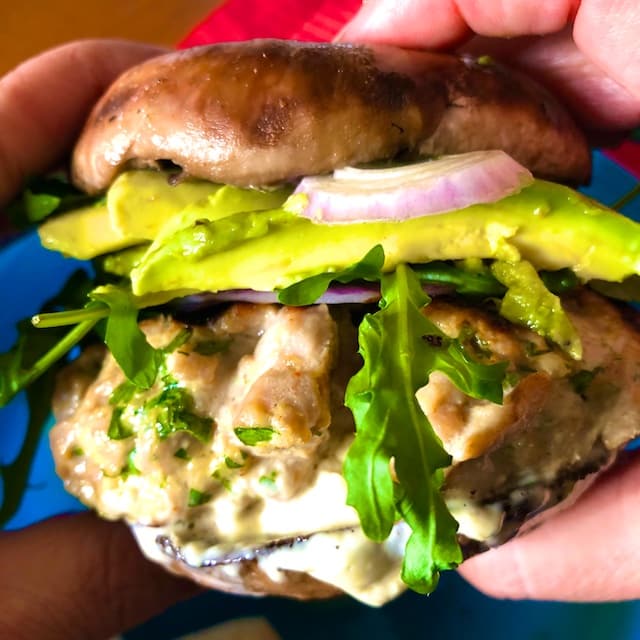 Wow. This is the best thing I have eaten in a long time. So flavorful and satisfying!
You may need some paper towel if you are going to eat this as a hand-held, but it is so worth getting a little bit messy. We also serve them on a plate without a bun (see bottom photo which is how we eat the leftovers), or feel free to use the bun of your choice instead.
The burger and sriracha mayo part of this recipe is modified from a recipe in a wonderful cookbook called Mostly Plants by Michael Pollen's family. (He's the one who wrote one of my favorite books, The Omnivore's Dilemma. I've reviewed his books here, and here, and their other cookbook here.)
In the summer, you can grill it outdoors, but right now, we are grilling it in a pan indoors.
The burgers freeze well too, as shown also below.
Recipe makes six burgers.
Savory Tuna Burgers with Sriracha Mayo and Portobello Buns Recipe
For the Tuna Burgers:
1.5 pounds of good quality fresh tuna
2 Tablespoons Dijon mustard
2 Tablespoons coconut aminos (or soy sauce)
2 Tablespoons fresh cilantro, chopped
1.5 Tablespoons grated yellow onion
1 Tablespoon toasted sesame oil
1 Tablespoon minced garlic
2 teaspoons rice vinegar
1/2 teaspoon finely grated fresh ginger
1/4 teaspoon cayenne pepper
Kosher salt
Freshly ground black pepper
olive oil
Toppings of choice: we like arugula, thinly sliced red onion, and sliced avocado
For the Sriracha Mayonnaise:
3/4 cup mayonnaise (I use my homemade avocado oil mayo)
1 Tablespoon Sriracha sauce (I use a kind without sugar see photo below)
1 Tablespoon coconut aminos (or soy sauce)
1 teaspoon finely grated fresh ginger
For the Portobello Buns:
2 portobello mushrooms for every burger you are serving
olive oil, salt and pepper
Place the tuna in the freezer to 15 minutes until firm to the touch. This makes it easy to slice.
Meanwhile, stir together the ingredients for the Sriracha mayonnaise.
Clean the mushrooms with a moist paper towel, peeling them if they are particularly dirty. Remove their stems.
Remove the tuna from the freezer and place it on the cutting board. Using a large sharp knife, chop the tuna to the size of hamburger meat.
Combine the tuna in a bowl with the ingredients through the salt and pepper. Mix thoroughly to combine. Divide the mixture into six equal patties about 1 inch thick. Brush them on both sides with the olive oil and place them in the refrigerator for 15 minutes.
While the tuna burgers are in the refrigerator, heat the grill pan to medium-high heat. Baste the mushroom tops with olive oil and sprinkle them with salt and pepper. Grill the mushrooms on both sides– top side down first– without moving them, until they are soft. Remove and set aside.
Add a little cooking spray to the grill, and add the tuna burgers. Cook 2 minutes a side for rare, 3-4 minutes a side for cooked through.
Spread the Sriracha mayonnaise on a mushroom cap, and place a burger on top. On the other mushroom cap, place your toppings of choice, and put it all together for the best bite ever.
Enjoy!