Langostino Pad Thai with Spaghetti Squash (Recipe)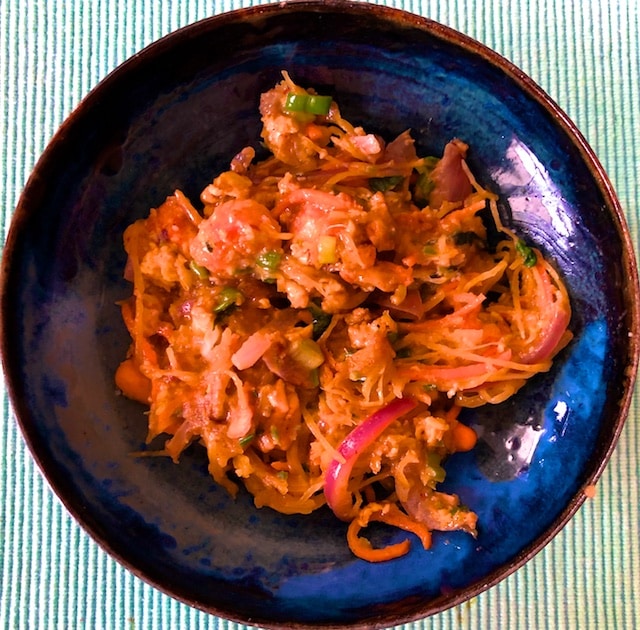 This is delicious enough for special, and easy enough for a weekday.
It is not your typical Pad Thai for three reasons:
The first is using langostino, which to my mind is an improvement over the usual protein choices for this dish (I buy langostino at either Trader Joe's or at Costco).
Secondly, we don't like things terribly hot so I use a large jalapeno (instead of a couple thai peppers which you could substitute if you want it spicy).
Third, this would traditionally be served garnished with mung bean sprouts and lime slices, but my crowd here vetoed both.
If you want something more traditional, you could swap those things back in, but we like it this way!
(Also note that leftover cooked spaghetti squash keeps well in the fridge either in its shell or removed from it, so I usually buy a large one and have some to heat up later in other dishes like my frittata recipe, or with my cashew sauce, or in my Mediterranean style recipe.)
Recipe for Langostino Pad Thai with Spaghetti Squash
4 cups cooked spaghetti squash (1/2 a large one or all of a small one)
2 cups langostino, thawed and water squeezed out
sea salt and fresh ground pepper
2 Tablespoons arrowroot powder
2 Tablespoons olive or avocado oil
1 red onion, thinly sliced
2 eggs, scrambled
1 cup matchstick carrots (try a grater, mandoline or spiralizer)
5 green onions, chopped white and green parts
handful fresh cilantro leaves, chopped
handful of fresh basil leaves, chopped
1/2 cup roasted/salted cashews, chopped
For the sauce:
3 Tablespoons almond butter
1/2 teaspoon sesame oil
1/2 cup coconut aminos
1 teaspoon fish sauce
1 large jalapeno, seed removed and chopped
3 cloves garlic, chopped
1 Tablespoon rice vinegar
1 large thumb of fresh ginger, peeled and chopped
3 Tablespoons coconut milk (full fat)
Preheat the oven at 400ºF.
Cut the spaghetti squash in half, brush with a little olive oil, and sprinkle with salt and pepper. Bake cut side up for 45-50 minutes.
Meanwhile, make the sauce, by putting all the sauce ingredients in a food processor or blender, and blending until smooth.
Place the thawed (squeezed dry) langostino in a bowl, season with salt and pepper, and add the arrowroot powder, mixing to coat evenly.
Heat two tablespoons of oil over medium-high heat in a large skillet. When the oil is hot, saute the langostino for a few minutes until tight fisted, then add in the red onions, and saute for about 3 minutes more.
Turn the heat down to low, and push the langostino/onion mixture to the side. Pour in the scrambled eggs, and cook, chopping it up roughly as you go. Once the egg is cooked, mix the egg bits in together with the langostino and onions.
Pour in the sauce, and scrape up the bits at the bottom of the pan. Add in green onions and carrot strips.
When the spaghetti squash is done, remove it from the oven, and scrape with a fork to release the ribbon-like threads of squash. Add four cups worth of the spaghetti squash to the mixture. Mix well, then add in the chopped cashews and chopped herbs.
Serve immediately.
(Serves four)