Shrimp Cabbage Pad Thai (Recipe)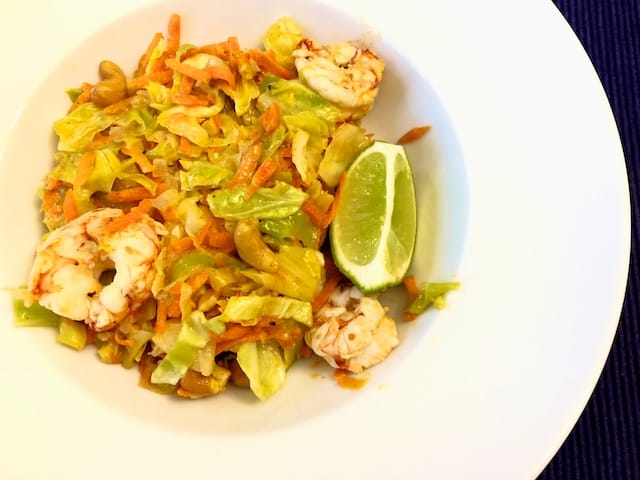 Everyone likes my Langostino Pad Thai with Spaghetti Squash, so now here is an alternative one with shrimp and cabbage instead. I created this by modifying the one in the No Crumbs Left cookbook and my result was fabulous– totally worth repeating and incorporating in a regular rotation.
There is some work here to make two different sauces, a marinating one and a finishing one for the stir fried vegetables, but the finishing one (Flavorful Almond Sauce) makes more than what you need for one recipe, so making this dish upon repeat becomes much easier. That sauce is accurately described as flavorful, for it is not spicy in the sense of being hot. The coconut milk and almond butter mellow out whatever spice is there. Also note that zesting and then squeezing out the juice from the ginger, was easy; it was just done in the palm of my hand. It is remarkable how much juice there is in that and it is a marvelous addition.
This makes four servings; so when serving two, warm up leftovers by first pulling shrimp out and heating them up after the veggies are hot, so as not to overcook them.
Shrimp Cabbage Pad Thai Recipe
For shrimp and marinade:
1 Tablespoon olive oil
2 teaspoons hot sauce
1 teaspoon lemon zest
1/2 teaspoon sea salt
1/4 teaspoon freshly ground black pepper
1/4 teaspoon cayenne pepper
1 pound shrimp, peeled and deveined
1 Tablespoon coconut oil
For the Flavorful Almond Sauce:
1 can full fat coconut milk
6 Tablespoons almond butter
1/4 cup chopped scallions
3 Tablespoons coconut aminos
2 Tablespoons rice vinegar
3 teaspoons hot sauce
1 Tablespoon toasted sesame oil
2 garlic cloves, chopped juice squeezed from
3 Tablespoons freshly grated ginger
1/4 teaspoon cayenne pepper
For Vegetable Stir Fry:
1 Tablespoon coconut oil
1 cup chopped onion
2 Tablespoons chopped garlic
3 cups grated carrots
2 teaspoons sea salt
1/4 teaspoon freshly ground black pepper
4 cups cabbage, thinly sliced
1/2 cup scallions, thinly sliced
1/2 cup Flavorful Almond Sauce
1/2 cup roasted cashews
1 lime, cut into wedges for garnish
Make the shrimp marinade by mixing the olive oil, hot sauce, lemon zest, sea salt, black pepper, and cayenne until combined. Add the shrimp and toss in the marinade. Leave to marinate while making the Flavorful Almond Sauce and chopping the veggies.
Make the Flavorful Almond Sauce by putting all those ingredients into a blender and blending until smooth.
In a large skillet, melt 1 Tablespoon of coconut oil over medium high heat, and then add the marinated shrimp. Stir until cooked through and starting to tighten, about 3 minutes. Transfer the shrimp back into a bowl and set aside.
In same pan, melt the other tablespoon of coconut oil, adding the onion and garlic, stirring a couple minutes until translucent. Add the carrots, 1 teaspoon of salt, and the black pepper. Cook, stirring another couple minutes. Add the cabbage and the remaining teaspoon of salt, and cook, stirring to incorporate for a few more minutes. Add the scallions, the Flavorful Almond Sauce, and the cashews, stirring to combine. Return the shrimp to the pan and gently warm.
Serve immediately with a wedge of lime as garnish. Yum!