Skyr Ranch Dressing (Recipe)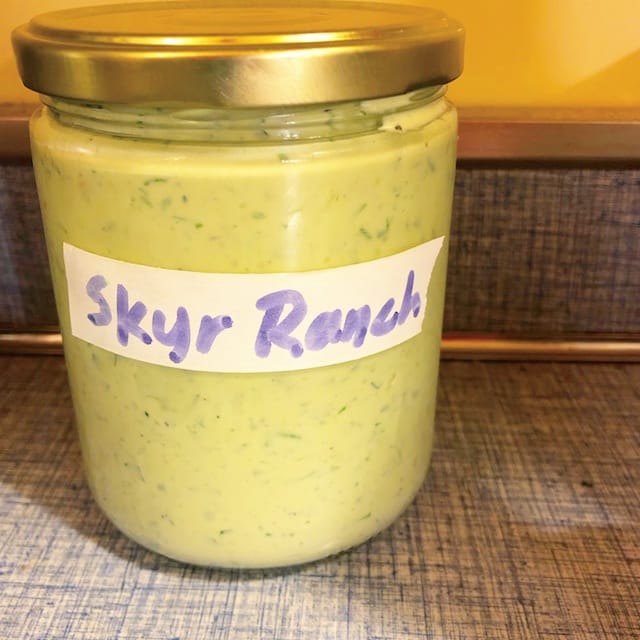 We are in Christmas countdown mode over here. Today or tomorrow we will decorate the tree. Our older daughter arrives this morning, and our son is expected tomorrow. So have my husband, younger daughter, and I been wrapping presents? No… we've been cooking. And this dressing I made last night is the revelation of the moment.
It is amazingly good. It bumped the seasonal quote I was planning to post this morning right off the blog. This dressing packs a powerful punch, but it just may be the best ranch dressing you've ever had. My husband and younger daughter were eating it by the teaspoon full, and dipping apples into it, although I obviously made it for salad. It would be amazing on baked potatoes, on sandwiches, or drizzled over protein too.
Don't know what skyr is? You've heard of Greek yogurt? This is traditional Icelandic yogurt– full of protein, not sweet at all, a bit extra tangy. Find it in your store where the yogurt is.  It is perfect for this.
This ranch comes out a bit green; if you prefer it a whiter more standard ranch color, you could mix everything together except the herbs, and fold in the minced parsley and chives gently by hand afterwards. Or like me, you could simply expedite it and embrace the color…
Skyr Ranch Dressing Recipe
2 scallions, both white and green parts
1/2 cup fresh parsley leaves
2 Tablespoons chives, chopped
4 garlic cloves
2 Tablespoons white wine vinegar
1 Tablespoon avocado oil
2 teaspoons Dijon mustard
1 1/2 teaspoons sea salt
3/4 teaspoon black pepper
3/4 cup mayonnaise (use my homemade recipe here)
2 containers of skyr
Put the first nine ingredients in a food processor and pulse until everything is chopped small. Add the mayo and skyr, and blend until everything is well combined and smooth.
Store in a jar in the refrigerator.
Enjoy!