Cloud Cuckoo Land (Book Review)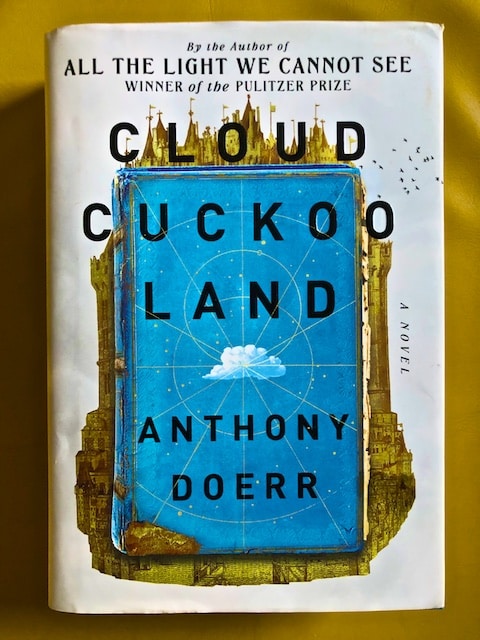 I picked this book up instantly upon its release because I thought the author's previous Pulitzer Prize winning book, All the Light We Cannot See was fantastic (see my review of that here), and I knew I'd want to read his next one. This new one did not disappoint, and I think I liked it even better, and give it five stars as well.
Cloud Cuckoo Land weaves five different story lines together. There are two threads from the siege of Constantinople in the 1400's, a 1950's POW in the Korean War, a boy in Idaho in the 70's, and a girl on a space ship in the future. There are classic texts in ancient Greek, environmental concerns of global devastation, sensitive, struggling young men, a plucky girl solving a mystery, surprising twists, and yes, hope.
This ambitious novel is about the hero's journey, as well as that of fools, both of whom appreciate the simple pleasures of home more after going far afield. It is about the power of books and story passed down through the centuries and intimately shared. It is about the fear of erasure and the hope of being sustainability outlived. There are ingenious futuristic libraries described, as well as sweet old fashioned ones, and the book itself is dedicated to librarians everywhere.
There were some twists in the story that were both fabulous and unexpected, which made perfect sense when you got there. The way the story lines wove together is the brilliance of this book, highlighting that the human condition is more than enough to have in common.
This book is long at 622 pages, but is worth the effort. It is chockfull of interesting factoids, and well as excellent characterization. Be patient with it while it builds and weaves together. It made me grateful to be right where I am, while quietly motivating me to make a better, wiser contribution as well.
I recommend this novel as one of the best I've read in quite a while. I predict it will be the book to get and give at Christmas this year.