Lions of Fifth Avenue (Book Review)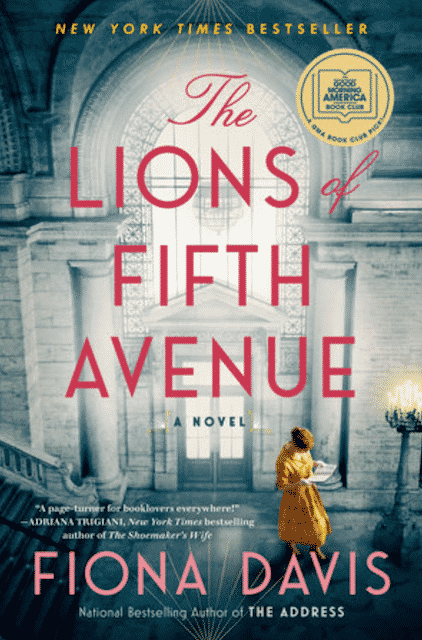 Having just been spoiled by reading Cloud Cuckoo Land, whatever you read next just cannot compare. My friends loved The Lions of Fifth Avenue, which is why I read it. For me, it was fine as far as it went, but I can only give it four equivocal stars. Maybe my timing on reading it was wrong, and I should have read it languishing on a beach in early July.
I liked that it was set in the New York City Public Library, and that the building itself was a character in the story. It was nice to read historical fiction that was not about war or pivoting around a true person. I liked the descriptions of the library and its collections. I liked that there were two strong female main characters working on their careers, and the feminism bits were truly appreciated; they were best aspect of the book. It was nice feeling like we've made some progress over time on gender bias, even though we have so far yet to go.
I'm not so much a fan of a duel story line. Here we have two women, eighty years apart, both dealing with parallel experiences– book theft and a child having gone missing. The duel story line thing is worn out for me. I seem to have read too much of it in the last couple years. Also, there is childhood neglect in this book, which is sad, and suicide too, which seemed inserted as merely a convenience to expedite the story line. The mystery part, my friends did not guess, and kept them intrigued and enthused. However, I've worked in the bowels of too many NYC buildings as an engineer not to guess early in the story what was going on. All this colored my enjoyment of this novel.
I'd love to hear what you think. I wouldn't recommend putting this on the top of your reading list, as some people urge, but it worked fine for me as an in-between read. Or save it to read on your next beach!