Movie Review: Up in the Air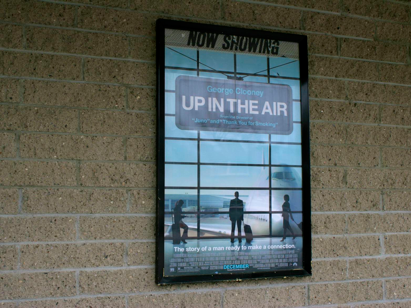 I went to this move on the strength of my pottery teacher's recommendation, and the fact that I like George Clooney. In this film, Clooney is a frequent flyer for a firm that lays people off, and in one year he clocks more miles than it takes to get to the moon, flying 325 days of the year. He likes it and he's good at it: smooth and polished, down to the last nuance. He is unattached and preaches motivational speeches about living with less baggage, both of the physical stuff variety and the relationship kind. He migrates around in the an impervious impersonal world dispassionately filled with faceless people.
There are plenty of cameos depicted of distressed people being told they are fired, when to their bafflement they are also being told to look for a silver lining. There is a conversation between a twenty-something girl and a forty-something woman about what they want out of life and a man, where the older woman makes clear that as you get on you lower your standards. Trying to help his soon to be brother-in-law get over cold feet on his wedding day, Clooney admits that there is no real point to life, but also concedes that perhaps it is better to get through it without loneliness. The end of the movie finds Clooney positioned finally where he always thought he wanted to be, only to realize that's not what he wants after all.
The movie is effective enough to get you thinking, especially in face of the rampant joblessness and widespread loneliness in this country, and for that I give it three stars. It is truly a classic study in what people like to call post-modernism. But despite Clooney's wonderful face, this movie is not a good time and leaves you "up in the air" so to speak. If I had known that, I would have opted for anything else from a wide range of choices that actually do provide "connection." This is no film for an optimist, and as I'm no cynic, I'd recommend something more hopeful instead.