Poached Egg on What?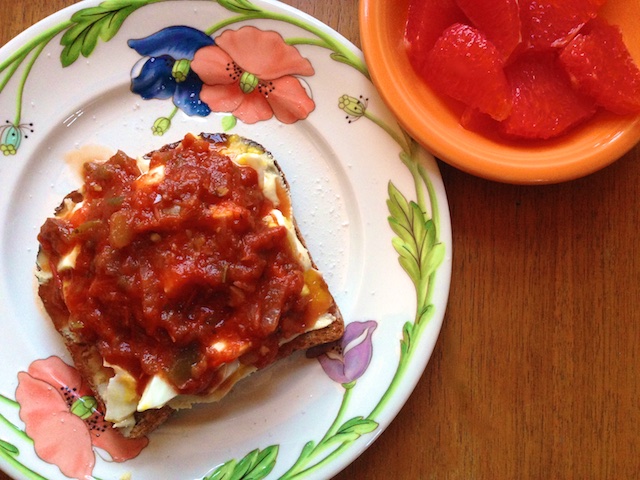 When I was at Creative Arts Camp and complaining about the overly sweet breakfast options, my friends asked me what I preferred. Something savory, I said. "Like what for example?", they asked, so I told them dreamily about a yummy poached egg on warmed up left over roasted Brussels sprouts (or whatever roasted vegetables you have on hand), as shown below. They were horrified.  
Since then I have a new favorite and I wanted to share it with you. Many of you who demand sugar at breakfast might say, "Yuck!," but you'll never know what you are missing. This is created by me – and therefore is a bit unusual – but oh-so-good. I hope the adventurous out there will give it a try, because you'll be thanking me for the rest of your life (like my husband does since I turned him on to peanut butter hummus toast early in our marriage, and as others do to the fabulousness of hot, melty peanut butter bacon toast which was a staple from my childhood).
So here is my new discovery: toasted Ezekiel bread spread with cashew butter, and then topped with a poached egg (chopped up and salted), with your favorite salsa– mine's from our Farmer's Market– warmed up and put on last. Wow. See it above. The cashew butter is faintly sweet, and combined with the salty egg and mildly spicy salsa, it is truly an amazing combination.
The preparation is all simultaneous after your water for the egg is boiling, so while the egg is cooking, toast the bread, warm up the salsa and find the cashew butter, with a slotted spoon to wiggle all the water off the egg, and a  knife (for spreading the cashew butter and chopping the poached egg directly onto the middle layer of the toast). This all comes together quickly and is a real nourishing treat. Some days you might need a knife and fork to eat it with, other days it may agree to be eaten in your hands. Enjoy!