Photos from a Permaculture Class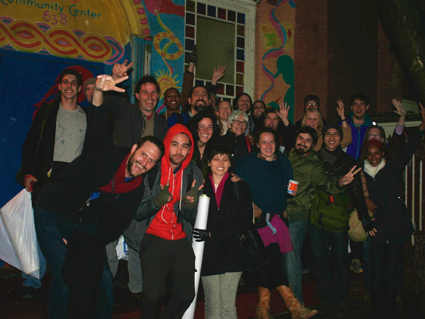 Today my husband, daughter and I – at the invitation of a friend – had the privilege of attending a permaculture class in New York City, held at the Sixth Street Community Center. We spent all day listening to the students' final design presentations. Wow, was this inspiring! Not only were all the ideas great, but merely the collective enthusiasm, consideration and pragmatic optimism these people embodied gives one hope for the world.
This Permaculture Design Certification class is taught by Andrew Faust (click here). Shown in the first and last photo below, he's a thorough, passionate and committed teacher, if his students are any indication. These students were not only empowered to take practical, grounded action, but also gushed about how transformative this class was, how it had "blown their consciousness wide open," and how they would never again see things in the same old way. Their project locations varied from urban to rural, from upstate New York, to Connecticut, New Jersey, South Carolina, New York City, and even beyond to California, Arizona, Chili and Peru.
They were taught a strategy of cheerfully "mitigating and moderating," i.e. doing the best they can with what is available. They talked about becoming "social pollinators," and doing "social reengineering." They defined waste as "resources in the wrong place," and also utilized the understanding that "an excess is simply a resource." Especially fascinating, is they leveraged the realization that "the problem is the solution;" for example, if flooding is your problem, your solution involves water. And did you know that the biggest monoculture in this country is not corn but lawns? Do you know what a swale is?
Permaculture (click here for the wikipedia definition) was explained to me as applying 18th century solutions to 21st century problems. It's not only about sustainable land use, but community as well. If our future is in these folks' hands, it is bright, fun, beautiful, safe, delicious, human scale and functional. These practices need to spread! And thankfully, they are.