Book Review: Made You Look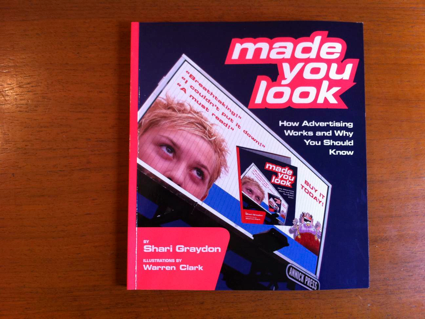 This book is for kids and young adults to help them be alert to and wise about advertising. I just completed it with my 8th grader, because her writing assignment was to write an ad, and she thought she hadn't much experience with ads since we don't watch TV. This book was excellent at instigating discussion on this topic.
And while we learned that the average young person is likely to see between 20,000 and 40,000 TV commercials in a year, we also learned that everyone deals with an average of 16,000 ads from all other types of media each and every single day. We thought this must be wrong but started paying attention. Right down to refrigerator magnets, they are right. My daughter realized she's been constantly swimming in advertising that is sometimes so subtle she's taking in their messages without realizing it.
This book covers the different angles to advertising, the laws about them, and how to complain and change things when we feel they are inappropriate. We are now on to all sorts of tricks advertisers use and it is fun to spot them in our environment. This awareness helps us not be so easily manipulated by advertisements. We give this thorough, eyeopening read five stars.
Next week my daughter writes and produces her ad. She's chosen to try to sell something she wants everyone to buy: a way to decrease junk mail. After all, isn't it ridiculous that bulk mail destroys more than 60 million trees a year all to create 4 million tons of waste?