Book Review: Beautiful Ruins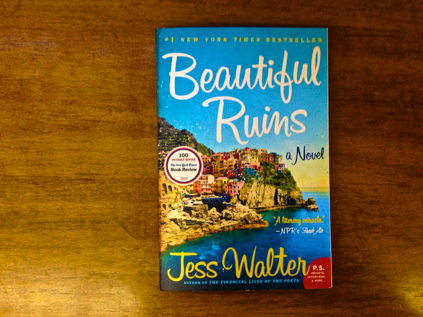 I didn't like this book much and am posting this mostly to let you know not to waste your time on it. It was #1 on the New York Times bestseller list, and touted as the "book of the year" by many. Otherwise, I probably wouldn't have read it and certainly wouldn't bother to blog about it here. But given how empty-handed it left me feeling, I would have appreciated someone steering me away from this one, so I'm following the Golden Rule by telling you to veto this if you're thinking of reading it. 
The young Italian innkeeper is the only breath of fresh air here in a multitude of characters. He remembers when he was seven deliberating giving back something someone had dropped, and because his mother was watching him, he did it. His mother said to him that she hoped when she was no longer watching him he would do the right thing then, too. And he does choose the right thing when she is gone. He qualifies as "beautiful" when all other characters here, although they may be physically lovelier, qualify as "ruins."
Skip this novel… I don't hate it, but it was blah… I give it 3 stars.