Peppermint Brownies (Recipe)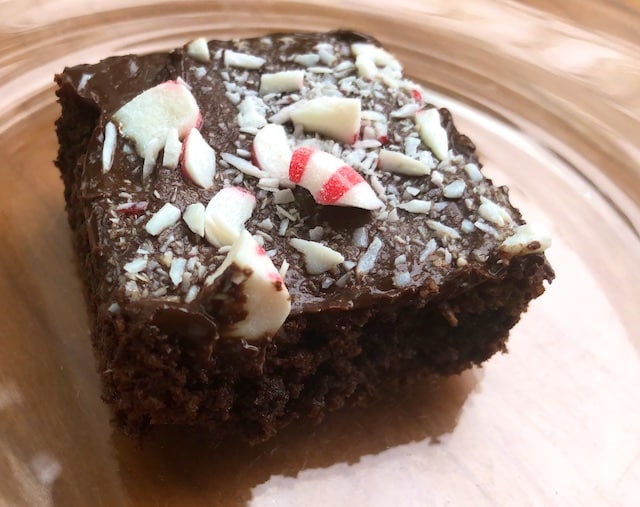 We made this treat over Memorial Day Weekend. I've had very little flour and sugar over this last year, trying to slenderize, and not finding most desserts "worth it." This one is!  They freeze well too, so you don't have to feel like you need to eat the whole batch!
Peppermint Brownie Recipe
1 1/3 cup organic all purpose flour
1 cup baking cocoa
1 teaspoon salt
1 teaspoon baking powder
3/4 cup butter, ghee, or avocado oil
2 cups sugar
2 teaspoon vanilla extract
4 large eggs
2/3 cup crushed peppermint candies
Glaze:
1 cup semisweet chocolate chips
1 Tablespoon butter, ghee, or avocado oil
2 Tablespoon crushed peppermint candies
Preheat oven to 350ºF
Grease a 9″x13″ pan.
Whisk together first four ingredients. In a separate large bowl mix together the oil/ghee, eggs and vanilla. While stirring, add in the dry ingredients, then the peppermint candies. Spread into the prepared pan.
Bake for 35-40 until a toothpick comes out clean. Allow to cool.
Melt the chocolate chips and ghee, and stir until smooth. Spread over the brownies, then sprinkle the top with the extra candy bits.
Enjoy!