Recipe: Quick Broiled Eggplant Parmesan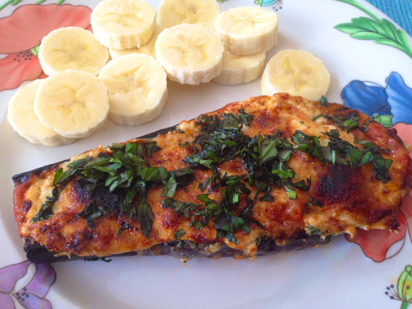 If you want the best full blown labor intensive Eggplant Parmesan try Julie's traditional recipe. But if you want a simple quick, delicious lunch or side dish with a similar effect (but without bread and not fried) try this recipe! It was a revelation to me; we'll be having it regularly because it is so easy and super satisfying. Because of this recipe, we are planting eggplant this year!
Important here are good quality ingredients, so grate some fresh Parmesan if you have it. Once you have the hang of this, this recipe is easy to make in whatever quantities needed, for more or fewer people. This is best eaten right after it is made, so figure one or two halves per person, without planning on leftovers.
Olive oil as needed
Salt
Freshly ground black pepper
2 small eggplants (about 6 ounces each)
6 Tablespoons good tomato sauce (I use Trader Joe's Three Cheese)
6 Tablespoons crumbled goat cheese
6 Tablespoons shredded mozzarella cheese
4 Tablespoons freshly grated Parmesan cheese
4 Tablespoons fresh basil, minced
Preheat broiler to 500˚F and place the oven rack in the highest position.
Lightly brush a baking sheet or pyrex baking pan with olive oil.
Cut the eggplants in half lengthwise, and place each one cut side up in the pan. Brush the surface of each eggplant half with olive oil and broil until tops are golden and fork tender, about 5-6 minutes. Turn the eggplants halves over, and broil another 5-6 minutes on the other side until the eggplants are very soft.
Remove the eggplants from the broiler and lower the oven rack to the second highest position.
Turn the eggplants cut side up, and sprinkle each one with salt and pepper. Spread each half of the eggplant with 1 1/2 tablespoons of tomato sauce, then 1 1/2 tablespoons of the crumbled goat cheese in an even layer, followed by 1 1/2 tablespoons of mozzarella and 1 tablespoon of Parmesan.
Return to the broiler and cook until the cheeses are melted and have formed a lovely brown crust, about 5-7 minutes.
Serve immediately, with each eggplant half topped with a tablespoon of minced fresh basil.
Enjoy! Yum!