Recipe: Roasted Butternut Squash, Brussels Sprouts, and Cranberries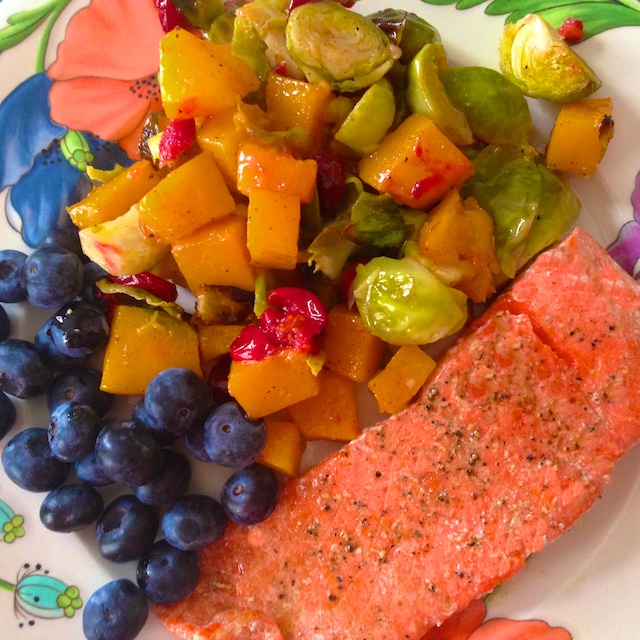 As blog readers know, some of the favorite recipes here are Roasted Brussels Sprouts and Caramelized Butternut Squash. Friday I tried a new twist on mixing them together, and we really liked it. I've seen autumnal Thanksgiving recipes do something similar but those mixtures are usually too sweet– drowned in maple syrup and with sweetened dried cranberries– and often sporting soggy nuts. My version is very easy and solved those problems in one fell swoop.
This makes eight servings – enough to serve a dinner party, or enough to freeze yummy leftovers for a quick side dishes later. Also consider using leftovers for breakfast with a poached egg over it! Cold leftovers of this in a salad would not go amiss either.
1 butternut squash (about 4 cups if you use precut), cut in 1 inch cubes
2 lbs of Brussels sprouts, ends cut off and halved or quartered depending on size
8 ounces of fresh cranberries
5 Tablespoons of olive oil
Preheat oven to 400ºF
Put all ingredients on a large cookie sheet or in a large roasting pan and stir well. Cook for 30-40 minutes stirring occasionally. The Brussels sprouts should be brighter green and slightly browning, and the butternut squash should be soft but not as mushy as the caramelized ones, still holding their shape. Serve hot.
Try it and enjoy!