Vegan Roasted Broccoli Soup (Recipe)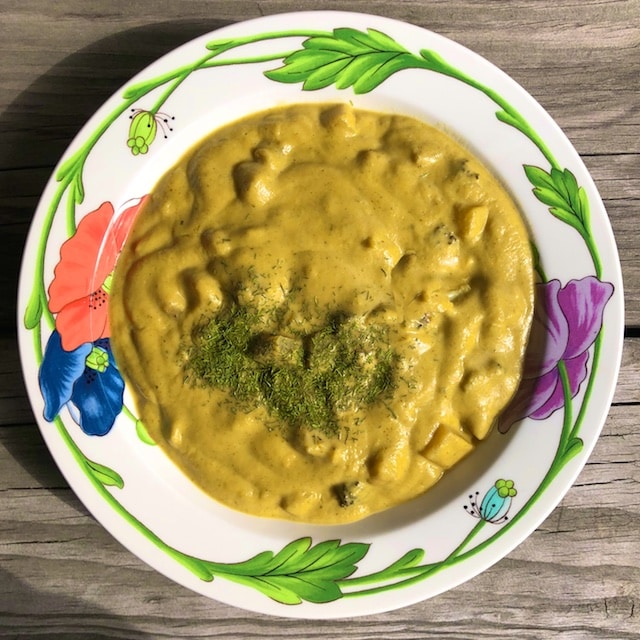 This soup isn't pretty, but it sure does taste good!
It is vegan, dairy-free, and delicious, so everyone can eat it. For non-vegans, you can pair it with a protein, as shown below.
You can trade out the turnip for a large potato if you want, although we prefer the turnip. Plus, without using a potato, this will freeze, which is an added bonus.
Serves 4
Vegan Roasted Broccoli Soup Recipe
1 large or two small broccoli crowns, cut into florets
1-2 tablespoons avocado oil
salt and pepper
1 small yellow onion, finely diced
1 large rib celery, diced
1 medium carrot, peeled and diced
4 cloves garlic, minced
1 turnip, peeled and diced
4 cups vegetable broth
1 cup coconut milk
4 tablespoons nutritional yeast
Fresh parsley, for garnish
Preheat the oven to 400℉,
Spread the broccoli florets on the baking sheet and drizzle with avocado oil. Season with salt and pepper, and roast for around 10-15 minutes.
While the broccoli is roasting, set a large pot on the stovetop over medium-high heat. Add 2 tablespoons of avocado oil and the diced onions with a pinch of salt. Cook until onions are softened and translucent, about 4-5 minutes, stirring frequently.
Add the celery, carrots, and garlic. Cook, stirring frequently, until garlic is fragrant, about 1 minute more. Add the diced turnip, vegetable broth, and coconut milk. Bring to a simmer. Remove the roasted broccoli from the oven, and add it to the simmering soup (leave out a couple pieces for garnish if you'd like). Stir in the nutritional yeast, turn the heat to medium-low, cover, and simmer until vegetables are completely softened, about 25-30 minutes. (If you forgot to cover it, you'll need to add in more broth to compensate.)
When the vegetables have completely softened, ladle 1/2 of the soup into a blender. Only blending half will ensure that the soup still has texture throughout, but makes it super creamy!
Add the pureed soup back to the soup pot, mix well, and season with salt and pepper to taste.
Garnish with parsley–try at least to make it pretty– and serve.
Yum! Enjoy!