Other Sedona Photos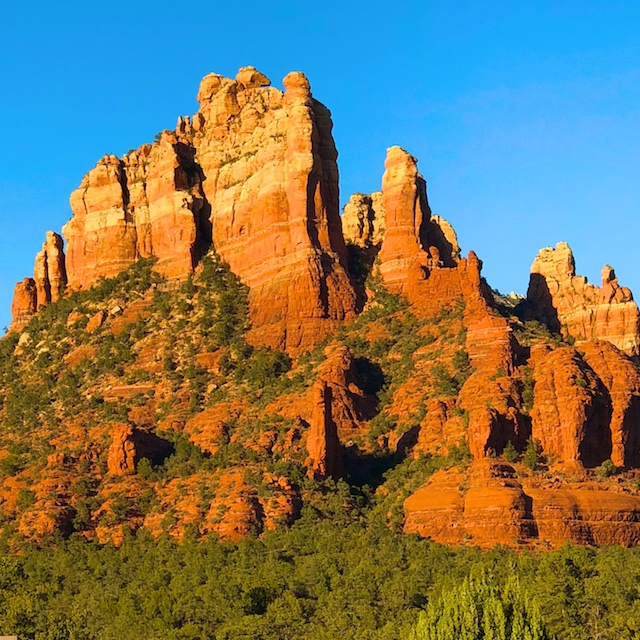 Here are my other photographs taken last month in Sedona, other than the ones in previous posts on this blog (of my hike there or of the yellow sky).
The guy at the visitor's center made me promise not to hike in the afternoons because it was so blasted HOT, so that left a lot of time for wandering in galleries and stuffing my face. I loved seeing originals of Larisa Aukon whom I enjoy following on Instagram.  I have long considered highlighting her as a featured artist on this blog, so you can now see several of her works below. I also loved (and drooled over) the local jewelry… and yes, bought the last gorgeous piece pictured below.
This was my first visit to Sedona, and if I had visited at another time of year when I could have hiked remotely more of the time I might have liked it better. As a kid raised in National Parks, I must admit finding shopping malls at the base of fabulous formations sad rather than cool. I would have preferred that this land was preserved in more of its natural state, even though I could see the zoning efforts that were thankfully made, and was grateful for those. Also, all the talk about Sedona being a particularly "spiritual place" I didn't find well founded, and I thought the excitement about "vortexes" as well as the hyped up discussion about what influence what rock or crystal has on you, all rather ridiculous.
Also I saw there what looked like wild boars– two mothers with three babies, in dusky light too poor to photograph them in. Since I was alone and unsure if they were aggressive– they were quite big and had some serious teeth– I hightailed it out of there. I have since been informed that they were javelinas and if you are curious you can see some images of them here on Google images. Now that amazing, close range sighting was a first for me!
Still, it is lovely there, as you can see in these photos, and I was glad to be able to visit. For now, I've chalked Sedona off my bucket list.