Chef's Table (Series on Netflix)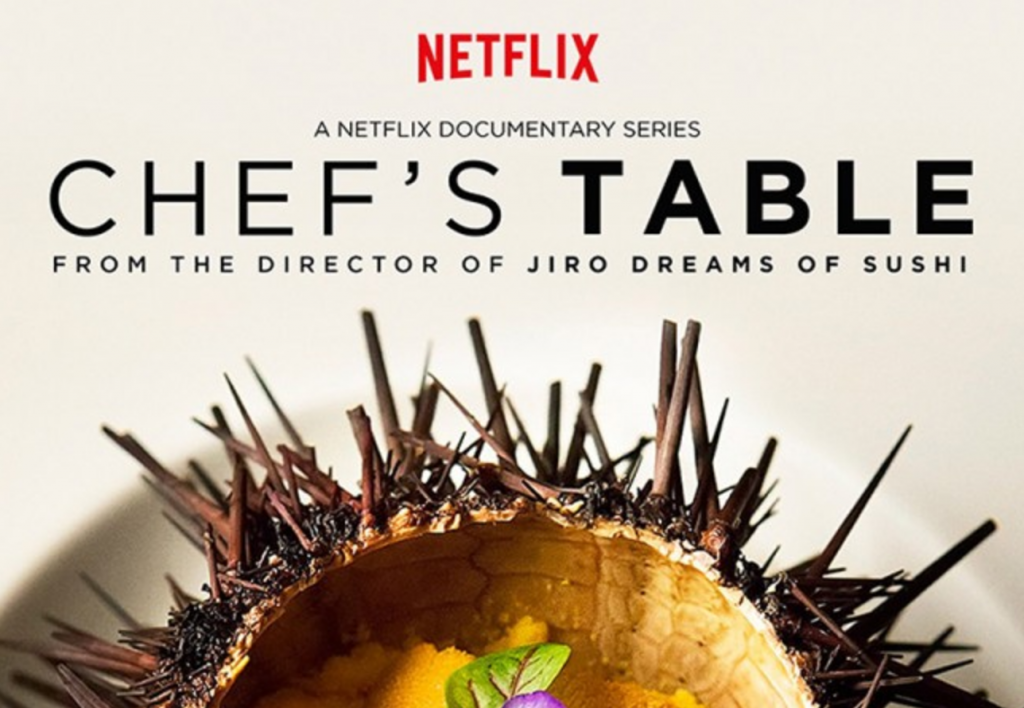 I haven't been to the movies much lately, since not much new out has seemed worth the entrance price. While at camp, though, I got a whole list of movies recommended to me, so we'll get on that soon. Meanwhile, however, we've been really enjoying the three seasons of Netflix's documentary Chef's Table, which was recommended to us by our younger daughter, who likes to cook.
Each show of the series highlights one of the chefs from the top 50 restaurants in the world. You explore their world, their food, their outlooks, trials, inspirations, and the path that brought them to where they are today. It is not only interesting, but beautifully photographed, and we are hooked. It is fun to see creative minds at work in any medium, but it is especially compelling to see the detail and care taken for something we all do: eat.
I like to cook too, and some people even rave about my food, but I'll never be like these chefs with their floating food, their tweezers, and their unheard of exotic ingredients. But I know some of what it is like to bring others pleasure in this arena, and I admire in these masters their finesse and exacting intensity.
I would that we all be at the top of our game. This is an enjoyable and gorgeous way to watch others at the top of theirs. It is also a peek into a world of expensive eating that most of us will never experience, filled with urchins artfully served returned to their shell, or food presented on nutmeg infused pillows. Not all of it sounds appetizing or practical to me, but it is all engrossing to look at and hear about!
So I commend this Netflix series to you. It is a feast, for your eyes, as well as cumulatively, for your soul. You too may want to sample this show, one luscious bite at a time. I give it five stars.