Book Review: Mr. Penumbra's 24 Hour Bookstore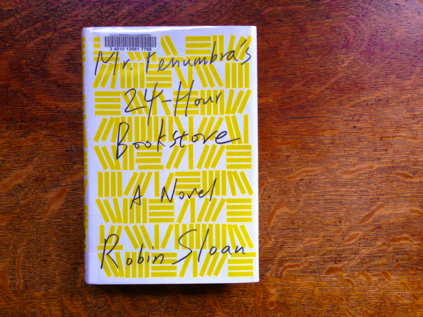 I loved this book and give it five stars. It was a delight to read – pure fun: inventive, imaginative, contemporary and totally refreshing.  I'll have to read nonfiction for a while now because I've been spoiled; I enjoyed it that much.  The cover is even glow-in-the-dark– which was a surprise to me on my bedside table; how cool is that?
This is the story of a resourceful bookstore clerk with friends that really love what they do, and that help him out. This is about cryptology, typography, secret societies, curiosity, taking the next obvious step, and the quest for eternal life, all powered by Google.  
Here is the moral of the story as a teaser:
"There is no immortality that is not built on friendship and work done with care. All the secrets in the world are hiding in plain sight. … Your life must be an open city, with all sorts of ways to wander in."
This novel is an unusual jewel, complete with a satisfying ending.  I recommend it.