Lemony Lentil Soup with Turmeric (Recipe)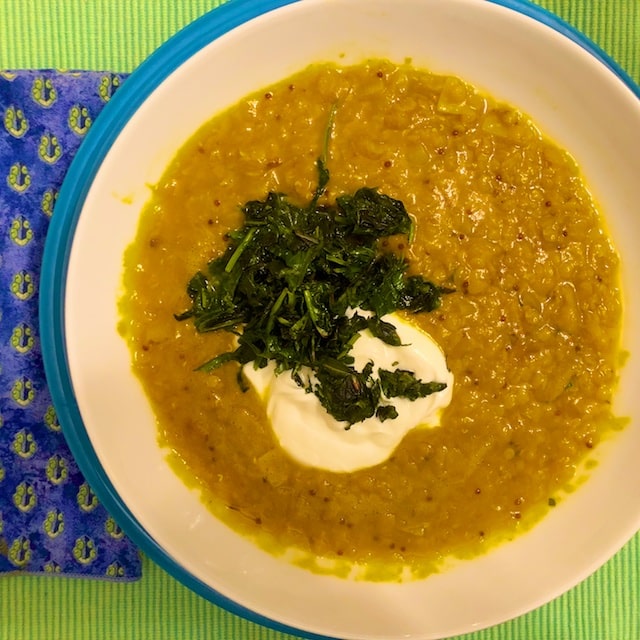 This is a quick, easy, nourishing, deliciously different, affordable, stovetop meal. What could be better? When squeezed both for energy and time, this is a great meal to turn to– squeeze lemons instead and let their tangy warmth revive you.
This soup is worth obtaining a few spices (like black mustard seeds and turmeric) that you may not always keep on hand.
It is much prettier–and yellower– than my photo above suggests, which was taken in dim dinnertime lighting, stretching my iPhone camera to its hilt. Who said a lentil soup doesn't warrant candles? This one surely does!
Recipe for Lemony Lentil Soup with Turmeric
2 Tablespoon olive oil (divided)
2 leeks, washed, trimmed, and finely sliced
1 teaspoon ground turmeric
2 teaspoons ground cumin
2 teaspoons black mustard seeds
juice of 2-3 lemons (two large or 3 small)
1 1/4 cup split red lentils
6 cups vegetable broth
4 handfuls of kale or baby kale, chopped
small container whole milk, plain yogurt
sea salt
In a large pan over medium heat, add a tablespoon of olive oil and the leeks. Cook them for a few minutes until soft, then add the spices, cooking for another couple minutes. Squeeze in the juice of one lemon to deglazed the pan, scraping up all the spices from the bottom of the pan.
Add the lentils and broth and let it bubble along absently for 35 minutes until all the lentils are cooked (they will no longer be pinkish red). Meanwhile, you go sit down and relax.
Take it off the heat and partially blend with it an immersion blender, if you have one. (It will then be the consistency of a dhal.)
Add in the rest of the freshly squeezed lemon juice. It should be tangy!
In another pan on medium heat, put the other tablespoon on olive oil and the chopped kale. Saute the kale until soft and starting to crisp at the edges. Mix the yogurt with a pinch of sea salt.
Serve the soup immediately with garnishes of the salted yogurt and the crispy kale.
Enjoy!