Recipe: Whole Grain Apple Waffles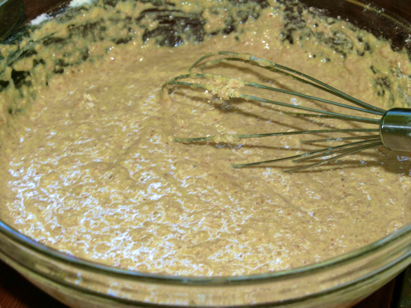 These taste great and are good for you too. They are a perfect option for a weekend breakfast or brunch. The recipe came from Bubby's Brunch Cookbook (see here), which I checked out of the library. Apparently Bubby's is a NYC landmark restaurant in Tribeca that I'll have to visit sometime, since this book is lovely, with delicious ideas to try.
Whole Grain Apple Waffles
1 cup whole wheat pastry flour
1/2 cup flaxseed meal or cornmeal
1/4 cup wheat germ
1/4 cup all-purpose flour
1 tablespoon plus 1 teaspoon baking powder
1 tablespoon sugar
1/2 teaspoon kosher salt
2 extra-large eggs
1 3/4 cups milk
1/4 cup canola oil
1 tablespoon unsalted butter, melted and cooled,
plus more for waffle iron
1/4 cup applesauce
1 teaspoon pure vanilla extract
Combine whole wheat pastry flour, cornmeal, wheat germ, all-purpose flour, baking powder, sugar, and salt in a large mixing bowl, and set aside.
Using a whisk, beat the eggs in a bowl for one minute until frothy. Add the milk, canola oil and butter. Beat for one minute until well combined. Stir in the applesauce and vanilla.
Add the flour mixture to the egg mixture. Beat for one minute until smooth.
Preheat a waffle iron to medium or 375˚ F.
Lightly butter the waffle iron. Pour about 3/4 cup of batter (or enough to cover two-thirds of the grid surface) onto the iron. Close the lid of the iron and allow the waffle to cook for 3 to 5 minutes. You'll know the waffle is ready when steam stops coming out of the sides, and when the top of the waffle iron is easy to lift. If the waffle seems to stick a little, give it another minute before trying again. Gently dislodge the waffle from the waffle iron with a fork. The waffle should be golden brown.
Be sure to let the iron heat up again, then repeat with the remaining batter. Serve warm…. Enjoy… Yum!