Sweet Life in Paris (Book Review with Hot Chocolate Recipe)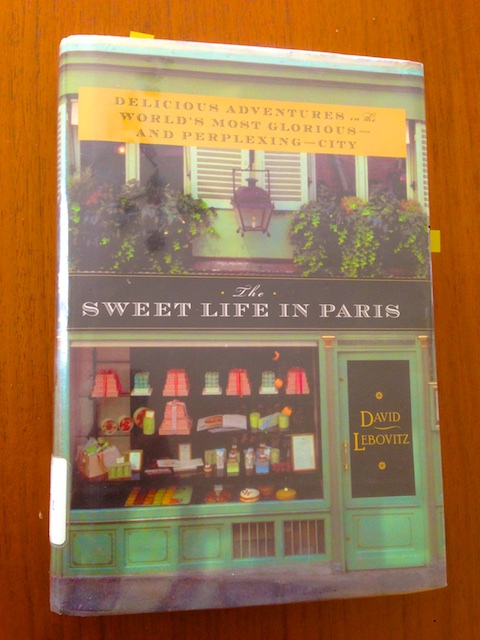 Having read this author's engaging prose style on his blog and in his cookbook My Paris Kitchen, I decided to read his memoir about moving to Paris.
After having been a chef in America's top restaurants for almost two decades, the author moved to Paris after the death of his partner– not to run away, he explains, but to "flip over the etch-a-sketch of his life and start fresh." He discovers Paris to be an entirely different world, where banks turn you away because they don't have change, where people dress up to take out the garbage, where people blatantly cut in line, and there are no public restrooms, as well as no air-conditioning.
The chapters here are short and perfect for right before bed. And incidentally, each chapter is followed by some recipes.
Although this memoir is at times whiny, more often it is laugh out loud funny. I guffawed loudly many times, which for me made it worth the read. I thoroughly enjoyed this book and give it four stars. Never having been to Paris, no other book I've ever read has made me feel more like I have.
Here is some of his random advice:
Never lie about your experience or skill level. "You'll be busted for it almost immediately, and it's more endearing to be eager to learn new skills than to screw up."
His favorite restaurants to visit in Paris are listed in this book but also on his blog here.
His decadent hot chocolate recipe:

2 cups whole milk
5 ounces semisweet or bittersweet chocolate
Pinch of salt

In a medium saucepan, warm the milk, chocolate and salt. Heat until it begins to boil. (It will probably boil up quite a bit at first so keep an eye on it.) Lower the heat to the barest simmer and cook the mixture, whisking frequently, for 3 minutes. If you want a thicker consistency, cook it another 1 to 2 minutes. (This can be made in advance and stored in the refrigerator for up to five days. Rewarm over low heat in a saucepan.)
I read the old hardback library copy shown above. Below, you can see what the new paperback version looks like.
You also might enjoy checking out David Lebovitz's blog.