I'm in This Juried Show in Essex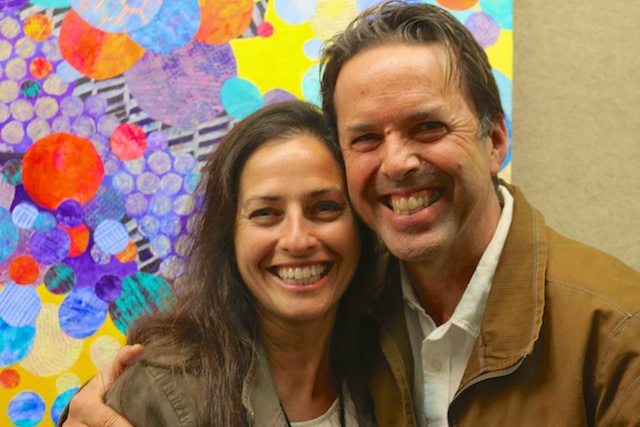 My large monoprint collage Youth Symphony is in this juried show at the Essex Art Association from May 6- May 27.  We had a great time at the opening on Friday night with both old friends and new.
I had a "small world" moment that blew me away when I saw Brooks and Karen–both amazing painters– (shown above) who are friends of mine from camp in Maine. Brooks lives in California, so I definitely didn't expect to see him here. Brooks (see his website here) was out east looking at galleries to represent him on this coast, and he and Karen were at this opening because Karen's sister's sculpture is in the show (shown below). I introduced Brooks and Karen back in 2014, and take full credit for their bi-coastal happiness. It was a true joy to see them again.
I was also delighted to meet at this show Janet Rayner (see her website here). She is a talented pastellist and is new to the area; I hope to loop her into the Connecticut Pastel Society of which I am membership chairman.
Check out the show below, or in person if possible.