My Artwork and a Tasting Event at Loree's Kitchen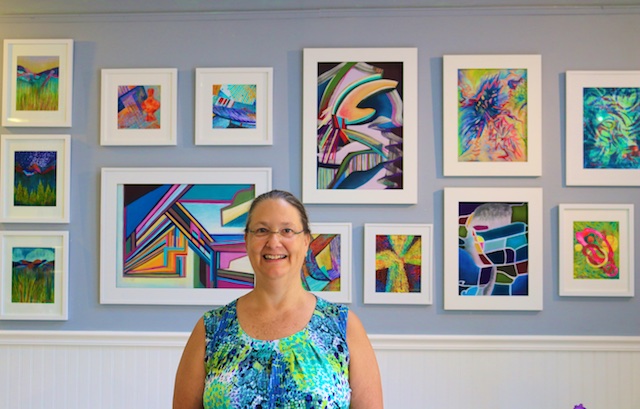 We had a wonderful time yesterday at an art opening of mine in Loree's Kitchen and Catering with an incredible tasting event showcasing Loree's yummy food. (You all wanted to know how I broke my sugar fast a couple weeks ago? It was on one of Loree's homemade donuts. Yes, her food is that good.) My art is on the wall in her establishment until mid September, so stop by if you can.
In the photos below you can see the scene, full of the art, the food, and the friends. My food favorites were the grilled avocado with crab cakes, the cauliflower fritters, the bacon twists, the shrimp with peanut sauce, the donuts and the lemon cookies.  An amusing comment about my art: "You are like if Monet and Picasso had a baby." More accurately someone else quipped that my art reminded them of "a cross between aboriginal art, art quilts, and Kandinsky." I'll take it! I was also enormously complimented to learn that Loree (a fellow blog reader of yours) serves my cauliflower risotto recipe as a vegan option in her catering work, and that it has been getting rave reviews!
I have to make a shout out to my husband and younger daughter who helped pull this rather spontaneous effort off on a dime. James framed four paintings that are less than a week old, and hung the artwork. Our daughter Laura curated the art show, choosing what work to show and where to position it. It wouldn't have come together without both of them on board.
Also I want to point out for you blog readers, that Loree offers cute mail order cookie houses, if you are ever looking for a great gift that you can order without any effort or fuss.