Today's Newspaper Article by Me: Founder of Christian Science Emphasized Gratitude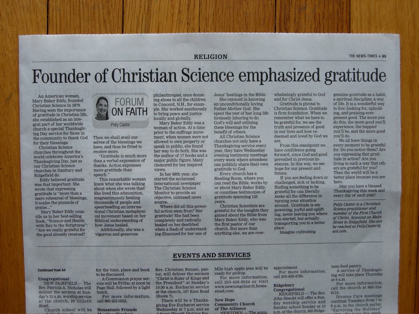 I am a regular writer for the Danbury News Times Forum on Faith Series. Here is today's column for the Thanksgiving season:
An American woman, Mary Baker Eddy, founded Christian Science in 1879. Having seen the importance of gratitude in Christian life, she established as an integral part of her worldwide church, a special Thanksgiving Day service as an opportunity for those in the community to thank God for their blessings.
So throughout the world, Christian Science churches celebrate America's Thanksgiving Day in their places of worship, just as our local Christian Science churches in Danbury and Ridgefield will do this and every year.
She felt gratitude was that important. She wrote that expressing gratitude is "more than a mere rehearsal of blessings, it scales the pinnacle of praise…"
Mary Baker Eddy councils us in her best selling book, Science and Health with Key to the Scriptures, "Are we really grateful for the good already received? Then we shall avail ourselves of the blessings we have, and thus be fitted to receive more. Gratitude is much more than a verbal expression of thanks. Action expresses more gratitude than speech."
This remarkable woman knew what she was talking about when she wrote that! She lived this admonition, magnanimously healing thousands of people and spearheading an international Christian metaphysical movement based on her Biblical understanding of how Jesus healed.
Additionally, she was a vigorous and generous philanthropist, once donating shoes to all the children in Concord, New Hampshire, for example. She worked assiduously to bring peace and justice both locally and globally.
Mary Baker Eddy was a woman of action. At a time prior to the suffrage movement when women were not allowed to own property or speak in public, she found her way to do both. She was an author of seventeen books and she was a major public figure. Many clamored for her inspired views. In her 88th year, she started the acclaimed international newspaper, the Christian Science Monitor, to provide an objective, unbiased news source.
Where did all this powerful action stem from? Her gratitude! She had been completely and radically healed on her deathbed when a flash of understanding illumined for her one of Jesus' healings in the Bible. She rejoiced in knowing an unconditionally loving Father-Mother God. She spent the rest of her long life tirelessly laboring to do God's will and utilizing these blessings for the benefit of others.
Every Christian Science church not only has a Thanksgiving service every year, but also every week holds Wednesday evening testimony meetings where attendees can publicly share their own gratitude to God. Each church has a Reading Room as well, where you can read the Bible and works by or about Mary Baker Eddy, as well as read from a collection of countless testimonies of gratitude spanning the last 125 years. Christian Scientists are grateful for the insights they have gained about the Bible from Mary Baker Eddy, who was the first pastor of our church. But more than anything else, we are overwhelmingly grateful to God, and for Christ Jesus.
Gratitude is pivotal to Christian Science. Gratitude is firm foundation. When we remember what we have to be grateful for, we see the truth and presence of good in our lives and how redeemed and loved we are by God. From this standpoint we have confidence going forward since God, good, prevailed in previous instances. In this way, we see hope for our present and future.
If you are feeling down or challenged, sick or lacking, finding something to be grateful for can literally make all the difference in turning your situation around. Gratitude is empowering, joyful and uplifting, never leaving you where you started, but actually transporting you to a better place.
Imagine cultivating genuine gratitude as a habit, a spiritual discipline, a way of life. It is a wonderful way to live: looking for, upholding, and praising ever-present good. The more you do this, the more good you'll experience, the happier you'll be, and the more good you'll do.
We all have things in every moment to be grateful for. Do you notice it? Are you expressing that gratitude in action? Are you living in such a way that others are grateful for you? Then, the world will be a better place because you are here.
May you have a blessed Thanksgiving, this week, and every day of each year!