Eggs Steamed in Leeks (Recipe)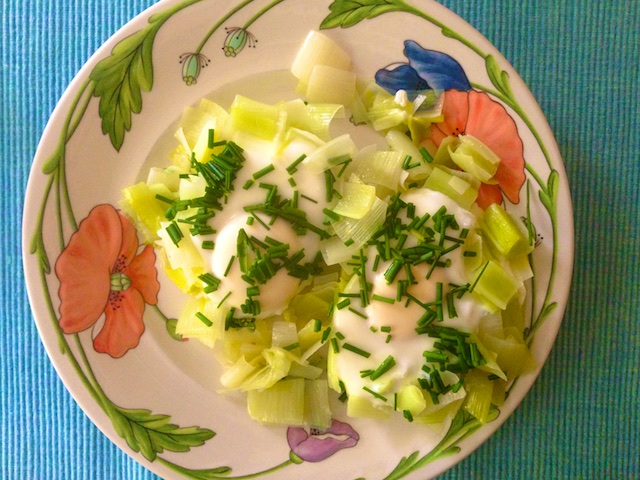 This is mild comfort food at it's best. Some people (like my husband) eat this drizzled with hot sauce or salsa, but I like it on its own when in the mood for something gentle and warm. It is a fast, easy breakfast, or a quick, satisfying meal at any time.
As you can see in the photos below, our farmer's market has had colossal leeks lately, so I'm hard put to define how many leeks you should use in this. Plan on two average leeks per person. In the photos here you can see I cooked a double batch for the two of us. If cooking for one, use a smaller pan. You'll figure out how many leeks you like, and if you only want one egg, you won't need as many leeks. Also below, I show you how to best chop the leeks for this.
olive oil
2 leeks, washed and cut as shown below
2 organic eggs
1 tablespoon fresh chives (or tarragon), chopped
salt and pepper
hot sauce or salsa (optional)
Over low heat, warm one teaspoon of olive oil with two tablespoons of water. Add the leeks and mix well, letting them cook for a few minutes until soft but not brown.
Once the leeks are soft, hollow out low spots, and crack the eggs into them, without breaking their yolks. Put a lid on the pan, and still over low heat, let the egg steam in the leeks for about 7 minutes, until the whites are cooked and the yolks are the way you like them.
Add salt, pepper, and chopped herbs. Add salsa or hot sauce if you need it less bland.
Enjoy immediately.