A Valentines"s Day Dinner Party (New Poem by Polly Castor)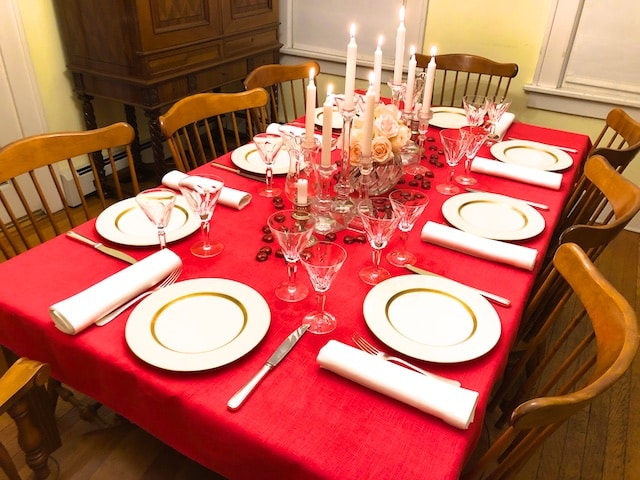 Valentine's Day Dinner Party
A busy week.
Many calls,
a whole cavalcade
of things to do.
Checked off lists
with stray things
left undone
because of other people's
honest emergencies.
Not much sleep.
A dinner party
hastily planned
for Friday night.
It was Valentine's Day
after all, so lets do
something special.
Festooned with
red tablecloth
wedding crystal,
sweetheart roses,
chocolate hearts,
an eventual bonfire
of candles,
and every place set
with my Aunt's
eggshell china
with gold rim.
Finally vacuuming
fifteen minutes before
the first doorbell
brought in a blast
of winter chill
along with friends,
I'm still cutting mounds
of vegetables. Appetizers
brought by others:
guacamole and chips
shallot and chive Boursin
on water crackers,
us passing out fizzy water.
Talk of trains with
shoe shining compartments
while you slept,
and bohemian digs
in Budapest, visiting
parents in Brazil, and
cruise ships, thank God,
no longer allowed
to dock in Venice.
Maybe I should make dinner.
I excuse myself and can
only hear murmurings
from the kitchen
as I throw together
the Pad Thai with
Shrimp and Cabbage,
to be served with the
two salads I made earlier,
a pink one in honor of the day
of jicama stained fuchsia
by roasted beets,
studded with lemon soaked
apple slices, plump blueberries,
and flecked with minced mint,
the other, more hearty,
with julienned broccoli stems,
curly kale massaged with
a teaspoon of honey, supporting
pillowy, pricy, out of season,
heirloom grape tomatoes,
and sunflower seeds.
Not a perfect meal,
for too many small shapes
for the designer in me.
So we added a grain-free
carrot gingerbread muffin
to anchor it some.
All the flavors and colors
are distinct anyway,
and with the candles
now lit, the lights
dimmed or off,
the cider bubbly now poured
–no alcohol here–
I figure we'll taste it
more than see it anyway.
We hold hands
for a silent prayer.
Plates are assembled,
and diners gathered,
commenting about food,
about the ambiance,
the week recedes
and is nowhere
completely interrupted
by celebrating love,
being thought of,
by community,
and feasting, and talk.
Everyone that came
knew somebody,
but no one knew everybody
but us. Out of eight people,
seven work from home,
a new trend.
We used to commute
and discussed how and where
(including best parking places).
But now, some work
in Starbucks, spare bedrooms,
basements, attics, and even
subscription offices,
available for booking online
at short notice,
all over the world.
Here we were on a frigid night
in Connecticut discussing
San Francisco
for everyone had reasons
of their own connected with it.
The world felt small.
These educated people
had been there.
One shared about
not complimenting
anyone in Japan on anything
or they would be
honor bound
to give it to you.
And did you know
they bury their dead
vertically
and will refuse
to be in your home
if you have photos out
of anyone no longer alive?
We heard of catering
for 10,000 people,
parents passing on overseas
on the day all
the offspring arrived,
and wondered together
about the fate
of Neiman Marcus,
with attending stories.
We moved on to dessert
served on my husband's
grandmother's plates,
with herbal tea and decaf
served in my grandmother's
teacups and saucers.
One guest brought strawberries
she had dipped in
dark and white chocolate
to look like little tuxedos
and we made my mother's
sugar cookies
cut out into hearts
and frosted pink,
white and red,
a long time tradition
in our family.
Flushed with sweetness,
we stayed, chatting,
turning to politics,
and the important
presidential elections.
Perspectives were shared,
all wanting the best
for our nation,
but with congenially
different views, and
more than a little humor
and concern.
We were still at the table
at 11:30pm, unbelieving
how time had flown,
and our shared evening
had evaporated our cares,
assuaged by a collective,
and with kindred feeling
inside and out.
By ones and twos
our guests slipped
back over our threshold
in the opposite direction,
into their separate lives,
heartened, convivial,
a nice time had by all.
I was struck
by how hospitality
is still relevant,
and should be more alive
and exercised these days
as much as our ancestors
had used their china.
I mused how hospitality
takes some thought
and energy, and care,
but that everyone,
even the hostess and host
get more out of it
than they put in.
Why do we forget that
so immeshed in our screens
and riveted to our Netflix,
or working all the time?
Each dinner party
is like a work of art
or a prayer
with God choreographing
the combination of ideas,
all ingredients contributing
to a distinct moment
that will never come again:
this amalgamation of people,
a menu never to be repeated,
the conversation byways
never again to be explored
the same way again.
The next morning,
with sunlight slanting in
on our leavings,
(having previously
tottered happily off
to a deep, blissfully
uninterrupted sleep),
aroused for me a wistfulness
for a world of graciousness
that I don't want
to disappear,
and will again someday
invite people to our table
to while away
an evening together
breaking bread
even when,
like for this time,
no bread was served.
While I guess
my husband and I
hosted this,
it felt more like
God did,
and I want to say
Thank You for
having us all.
We felt the Love.
Polly Castor
2/15/2020