Book Review: The Inheritance of Loss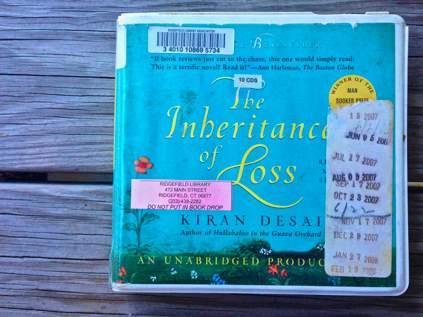 This book enjoyed acclaim back in 2006 when it came out, and won the Booker Prize, at which point I put it on my reading list. Reviews of this book are all over the lot, with raving five star reviews, as well as raving one star reviews. "Loss" not being my favorite topic to read about, I never got around to "reading" this book until now, when I checked it out on audio for my recent drive to and from Maine. I now understand fully the range of responses to this book and offer here my review of it as a solid three star read.
I don't blog about hardly any of the many three star books I read, but I found this one so well written that it deserves mention here. The advantage of listening to it is that all the names were pronounced for me and I didn't get bogged down with it being too slow, as I would have with a book like this in print. But contrariwise, the problem of only hearing this story was that it was hard to savor the overtly marvelous use of language; there were many morsels of beautiful (as well as intensely harsh) imagery, and there was much poetic prose that I would have flagged to both share here and relish further, had I read it in print.
This story takes place both in northern India in the mountains near Nepal, as well as in New York City, and even a bit in England. It vacillates not only from place to place, and from character to character, but also jumps around through time. The reader must really pay attention to where they are with whom, and this is a bit confusing, until you get used to it.
On the one hand, the consequences of colonialism permeate the lives of these characters. But also the question as to whether it is best to stay in one's own country, or to immigrate out, is explored; what will best benefit both yourself and your country? And between these two themes you find India: frustrated, dysfunctional, and pulled in two directions by outside forces of past and future. As a country and a people it is portrayed here as immobilized but tumultuous. Apparently, they have simultaneously inherited this mess and perpetuated it with their own choices.
This book is almost stunningly superb but then is depressingly unsatisfying in the end. The way this magnificent novel is eventually disappointing adds to its message in some strange way, and you feel you got a glimpse of something real, but with redemption kept far out of sight. I reviewed The White Tiger –another troubling recent novel about India– which I gave a better rating but liked less than this book. Both have a message of hopelessness that I will pray about, but it will be a long time before I'll read another novel set in India.