A Weekend Full of Friends, Family, Food, and Fun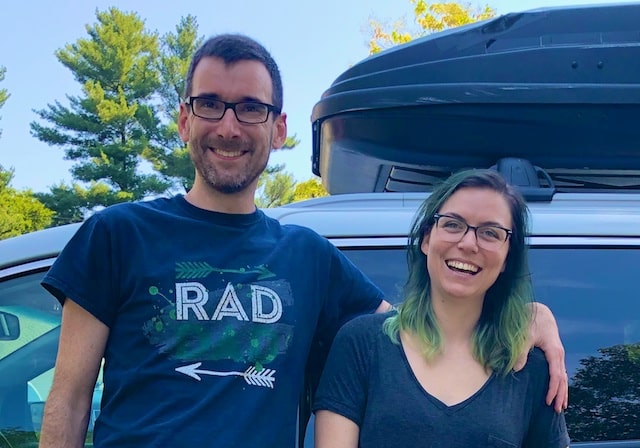 We had quite the full time last weekend after dropping our youngest daughter off in her new apartment.
Friday night, we were invited out to a nice dinner party of people we know from book groups. I didn't get photos of them (fellow blog readers of yours) because I didn't realize yet I'd be doing this post. The food, however, I did photograph, since it was fabulous. You can see it in the first three photos below. We sat outside among hydrangeas and dahlias, surrounded by twinkle lights. It was magical and meandering in a calmly beguiling way, totally sidestepping how busy we all were, between our various projects.
Saturday, between work calls and a couple people stopping by, we (sort of!) cleaned our house, which had been neglected in all the commotion of our daughter's move. James headed to his writers group, and was there as our friends from Indiana arrived. We went off to swim at the quarry, and James joined up with us there. Afterwards, we headed back to our house and we made our Tomato Tart with our homegrown tomatoes, and our friends made those gorgeous salads to accompany it. For dessert, we went for ice cream at Ferris Acres Creamery, and it was a classic Saturday evening there, with a long line and marvelous flavors. Then we headed to the free movies to see Aladdin. It was the perfect summer day and we enjoyed meaningful conversations and being with another couple with whom we have so much in common. They stayed over in their RV, and went to church with us (since this is how we know them), followed by going out to lunch afterwards. I hope they visit again soon!
So on Sunday, after our Indiana friends left, our nephew's family arrived. (He is the oldest child of my oldest sister, and they were driving from New Hampshire to North Carolina, thankfully seeing us too). The six of us went for a swim at the quarry with a picnic dinner featuring my Curried Tuna Salad with Apples and Raisins, Roasted Beet and Tomato Salad, and yellow watermelon. I was so glad to finally be able to share this place with our nephew's family and they were glad to be there in that peaceful, undemanding place, especially after a lot of traffic on the road. We returned home for Peach Galette for dessert (the kids called it fruit pizza) just before the rain poured down. (Rain had been forecast for both Saturday and Sunday, and I was grateful to get quarry visits in with both bits of company before it actually rained!) Monday morning the kids helped James make Multigrain Pancakes with Berry Maple Syrup, before they headed on their way. It was so good to see them! I hadn't seen them since our niece's wedding in Chapel Hill in 2017 We'll try to not let so much time escape past us before seeing each other again.
Then Monday at dinnertime our third overnight company in three days arrived. This time it was a fellow artist-in-residence friend who is headed to Maine with me tomorrow. She's a playwright (and actress) from Brooklyn, and came up on the train. We made salmon salad and cookies, and chatted late and long. Now this morning I need to go pack for my artist-in-residency and off we'll go!
Check out the photos below of this wonderful (and varied!) weekend. It was like a revolving door of people we like from various aspects of our life. Such a lot of incessant activity! Infinite good sure is abundant over here! Such love and great people, scrumptious food, and candid conversation! I'm so grateful. I'm glad it all squeezed in so seamlessly. Thank you God!