Our Niece's Wedding in Chapel Hill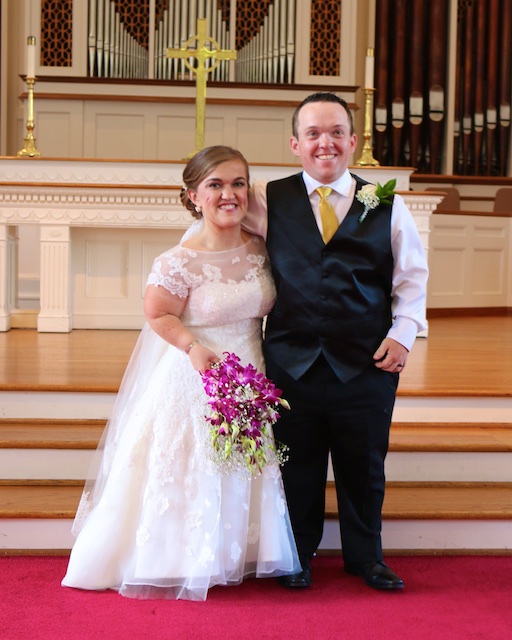 Last weekend we went to our niece's beautiful wedding in Chapel Hill. We've been anticipating this occasion for a year. It was wonderful to be there with everyone, and to meet our niece's husband, who is a terrific addition to our family. They met two years ago at a Little People of America's convention, and it is so fun to see how much they enjoy being together. Their joy is infectious!
He is immigrating from Calgary, Canada to North Carolina, so their transition to being together is more complicated than most folks have to negotiate. They have flown between those locations a whole lot and all the groom's family and friends came from a long way to the wedding.
The wedding was held in my sister's Presbyterian church, and the reception was in a lovely event center that was engaged for the whole weekend. That way, the rehearsal dinner and Sunday brunch after the wedding could be held there as well, which worked out great. As you saw in yesterday's post, I did the flowers there for the tables and the church. It was also fun to stay in the same hotel as many people attending the wedding, so the breakfast room there was a very social moment for everyone as well.
I am the youngest of three girls, and the bride is the daughter of my oldest sister. Sadly, my sister's husband – the bride's dad– passed on many years ago, so the bride's brother walked her down the aisle. It was sweet that during the time that the Father/daughter dance would occur, she asked the important men in her life to take turns dancing with her. This was a very poignant moment for those of us who knew her dad, especially as they danced to the Beatle's song "Let it Be." My husband was very honored to be one of the men she asked to dance with her for this special moment, and you can see that in the photos below.
Also fun for us was to meet our older daughter's friend whom she invited to the wedding. They are both exceptional swing dancers, and it was great to watch them dance.
It was marvelous to be together as a family again, and to reconnect with my oldest sister's friends. It was heartening to see what a nice family our niece is marrying into and that so many made the long trip to North Carolina from western Canada. We are very happy for our niece, and glad for the love she has found and is expressing. It is so fabulous to watch her grow up and blossom into the fantastic and beautiful woman she is.
Check out my photos below of this very happy family occasion!
(The first Photo below is by wedding photographer Kate Marchetto, of MKM Photography. All the rest are mine.)