Niece's Post Wedding Brunch and Our Drive Home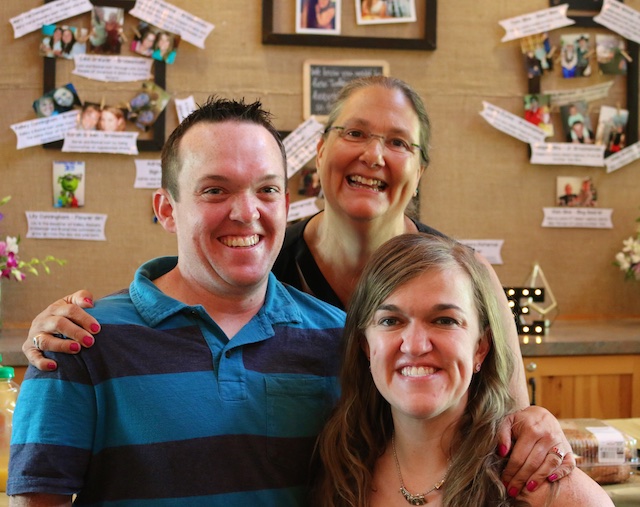 My sister hosted an after-the-wedding Sunday brunch for all the out–of–state travelers, which was lovely. The bride and groom were there since they've got an immigration hearing to go to, so their honeymoon is postponed. It was good to be able to have three gatherings in the same venue, Friday night's rehearsal dinner, Saturday evening's wedding reception, and this brunch.
We then bid everyone goodbye and retraced our steps back through winding, remote, no-cell-service roads, to take our youngest back to Green Bank National Radio Telescope. On the way, we stopped so she could get some groceries, and it was very satisfying to see the good, fresh food she chose. (It was such a better selection than most of her clientele, that we got in a discussion with the check out lady about it, who just marveled at our daughter.) We dropped our daughter off at sunset, and then drove three hours more of winding, no-cell-service roads to a hotel for the night.
The next morning, we drove to old town Alexandria, Virginia, where my sister-in-law and her husband have just moved after being in London for more than two decades. It is great to have them back stateside again! They bought a lovely house, whose oldest section dates back to the 1700's. To me, the coolest features of this new home of theirs were a bronze Thomas Jefferson in their courtyard, a huge refrigerator that looks like an armoire, an infinity bathtub filled from the ceiling (awesome–yes, I used it!) and incredible tree roots just outside their gate.
Their son was returning that day from 8 weeks of college classes in Europe, so while they picked him up, James and I wandered around old town Alexandria, which is a charming place. We stopped for a delightful lunch at a creperie and ate companionably at a tiny table on the sidewalk in pleasant summer weather. After all the action of the last couple weeks, it was fun being just the two of us, buying a few stocking stuffers and indulging in gelato.
Once our nephew was home it was great to catch up with him, and my sister-in-law made her gazpacho for dinner, along with salmon, and our first corn on the cob of the year. We then left the next day –last Tuesday– and drove home! After a whirlwind of events and interactions, we are back to our quiet life.
We've done three out–of–state weddings this past year, and we've been in all four of our siblings' out–of–state homes since April. Hummmm… what will our vacation time look like next year?