Today's Newspaper Article: Christian Scientists Triumph over Accidents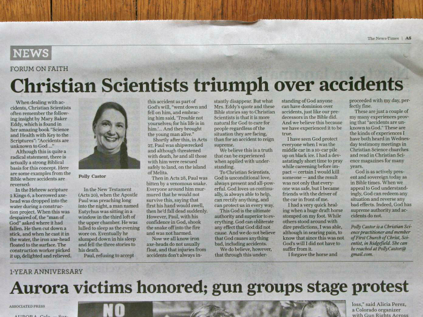 I am a regular contributor to the Danbury News Times Forum on Faith column, which is also picked up by the Connecticut Post and the Stamford Advocate. (Please note that I don't have any control over the title but I love this one!)  Anyway, you can read the article online here or here or here or below:
Christian Scientists Triumph over Accidents
When dealing with accidents, Christian Scientists often remember the following insight by Mary Baker Eddy, which is found in her amazing book Science and Health with Key to the Scriptures:  "Accidents are unknown to God…"  
Although this is quite a radical statement, there is actually a strong Biblical basis for this concept. Here are some examples from the Bible where accidents are reversed:
In the Old Testament (in II Kings Chapter 6), a borrowed axe-head was dropped into the water during a construction project.  When this was despaired of, the "man of God" asked where it had fallen. He then cut down a stick, and when he cast it in the water, the iron axe-head floated to the surface. The construction worker picked it up, delighted and relieved.
In the New Testament (in Acts Chapter 20), when the Apostle Paul was preaching long into the night, there was a man named Eutychus sitting in a window in the third loft of the upper chamber. He was lulled to sleep as the evening wore on. Eventually he slumped down in his sleep, and fell the three stories to his death.  
But Paul, refusing to accept that this accident was part of God's will, "went down and fell on him, and embracing him said, 'Trouble not yourselves; for his life is in him.'… And they brought the young man alive."
Shortly after this (in Acts Chapter 27), Paul was shipwrecked, and although threatened with death, all were rescued safely to land, on the island of Melita. 
Then (in Acts Chapter 28), Paul was bit by a venomous snake.  Everyone around him murmured that he would not survive this, saying that first his hand would get swollen and then he'd fall down dead suddenly.  However, Paul, with his confidence instead in God, shook off the snake into the fire and was not harmed.
Now we all know iron axe-heads do not usually float, and that injuries from accidents don't always instantly disappear.  But what Mrs. Eddy's quote and these Bible stories are telling us is that it is more natural for God to care for us regardless of the situation we are facing, than for an accident to reign supreme.  This is a truth that can be experienced when applied with understanding.
To Christian Scientists, God is unconditional Love, always present, and all-powerful; God loves us continually, is always able to help, can rectify anything, and can protect us in every way.  This God is the ultimate authority, and superior to everything. He can obliterate any effect He did not cause.  And we do not believe that God causes anything bad, including accidents. 
We do believe, however, that through this understanding of God, anyone can have dominion over accidents, just like our predecessors in the Bible did. And we believe this because we have experienced it to be true.  
I have seen God protect everyone when I was the middle car in a ten-car pile up on black ice.  I had a devastatingly short time to pray while careening before impact – certain I would kill someone – and the result was not only that everyone was safe, but I became friends with the driver of the car in front of me.
I had a very quick healing when a huge draft horse stomped on my foot. While others stood around with their dire predictions, I was able, even through searing pain, to know that since this was not God's will, I did not have to suffer from it.  I forgave the horse and proceeded with my day, perfectly fine.
These are just a couple of my many experiences proving that "accidents are unknown to God." These are the kinds of experiences I have both heard in Wednesday testimony meetings in Christian Science churches and read in Christian Science magazines for many years.  
God is as actively present and sovereign today as in Bible times. When we appeal to Him understandingly, He can redeem any situation and reverse any bad effects. Indeed, God has supreme authority and accidents do not.
By Polly Castor, a Christian Science practitioner, and member of First Church of Christ, Scientist, Ridgefield, CT. She can be reached at PollyCastor@gmail.com