Book Review: Dinner with Edward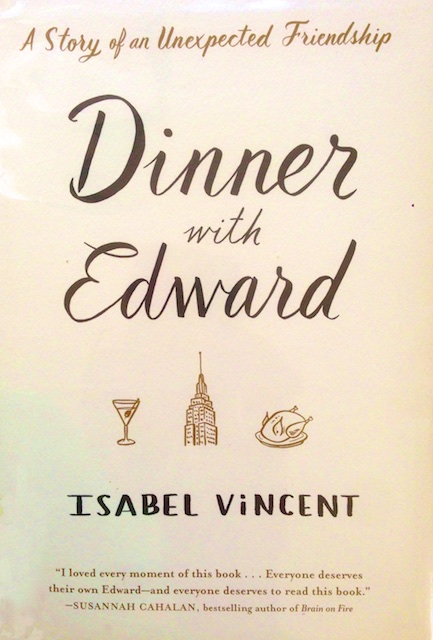 This sweet, yummy book is a great way to spend an evening. It is a short, loving memoir of a unhappy young woman having weekly dinners with a grieving but capable 90 year old widower, and the transformative effect it has on both of them. Edward is full of life wisdom and gourmet cooking advice, and food is definitely a way of expressing and receiving love. This relationship, built on sharing and conversation, is a beautiful thing to behold.
Here are some wonderful bits:
"St John had a knack for eggs. When Edward asked him the secret of his scrambled eggs, St. John told him that he never cooked them all at once; he did it in a few steps. Edward had shared the trick with Paula and now insisted on showing it to me. He took farm-fresh eggs, their yokes glistening orange as he cracked them into a bowl, whisking them with a splash of milk or cream, salt, and pepper. Then he melted sweet butter in a hot frying pan, adding only half the egg mixture to the skillet when the butter was just on the edge of turning brown. 'Never all at once,' Edward repeated. 'You do the eggs in two steps.' After the first part began to sizzle and bubble, Edward gently loosened the eggs with a spoon, reduced the heat, and added the rest, cooking the slippery, pale yellow mixture until the eggs were light, fluffy, and completely coated in butter."

 
"Years later, when I told her I was growing my own Swiss chard but didn't know how to cook it, she immediately suggested steaming it and then covering it in heavy cream, mixed with a teaspoon of Dijon and grated pecorino, before baking it in a hot oven. She suggested serving it over polenta, which I now do pretty much every time I have Swiss chard."
'Love is being, not belonging. Giving and receiving, not possessing.'
'It is only with the heart that one can see rightly; what is essential is invisible to the eye.' Saint-Exupery in The Little Prince
"'People are too obsessed with seeking experience and feel that if they are not living on the razor's edge they are not alive,' Edward had once told me. 'It's because they can't deal with normal life. They need to climb Mount Everest instead.' I had been one of those people whom Edward was talking about. I had lived on the razor's edge. I had voluntarily traveled to extreme places, to cover war in Africa and drug traffickers in South America. And I thought the experience was more valid than the daily grind. I had always lived with the notion that paradise was somewhere else. But Edward knew better. He knew that paradise was not a place, but the people in your life."
Even though there was talk here of meat and wine, neither of which I consume, I loved this little volume, and think you might too. I give it five stars.