Recipe: Vegan Pesto with Fish and Brussels Sprouts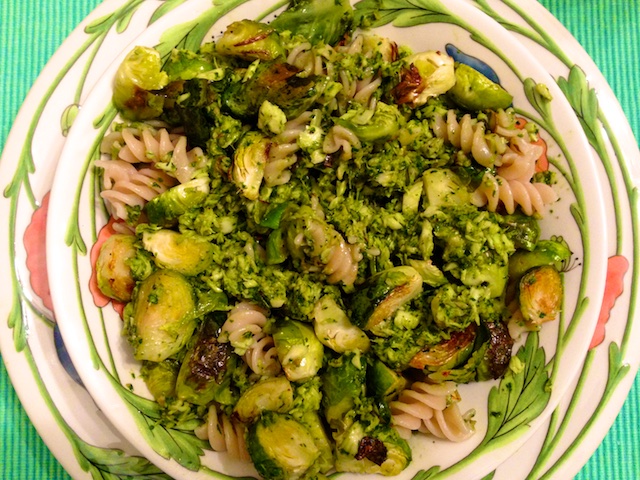 This is a great dish for any guest that needs both a dairy-free and gluten-free meal. We like it very much so make it for ourselves even without without those dietary restrictions.
The nutritional yeast is tasty, and it is generally available as a staple for vegans; a photo of it is shown below. However, if you would rather use parmesan in the pesto instead of the nutritional yeast, just substitute it.
If you wish to make this dish purely vegan, simply omit the fish.
Vegan Pesto
2 cups (one Trader Joe's package) basil leaves
1/2 cup parsley leaves
1/4 cup nutritional yeast flakes (or parmesan if you prefer)
1/4 cup pine nuts, toasted
5 cloves garlic
1/2 teaspoon kosher salt
1/4 teaspoon freshly ground pepper
1/4 teaspoon red pepper flakes
1/3 cup olive oil (or more if desired)
Pulse all these ingredients in a food processor until pulverized and well mixed.
Mix with:
1 cup brown rice Fusilli (we use (Trader Joe's), cooked in salted water as per package instructions
2 small or 1 large fish fillet (I use tilapia not from Asia), poached in water, drained, and flaked
1/2 stalk (or 3 cups) Brussels sprouts, quartered and roasted with a little olive oil, as per 1/2 my recipe here
All this can come together quickly and simultaneously:
Put the Brussels sprouts in the 400 degree oven to roast first.
Toast the pine nuts in a dry pan over medium heat until golden.
Put on the salted pasta water to boil, adding the pasta (for about 7 minutes) when water is boiling vigorously.
Put on the fish to poach in water, until cooked through, and then drain away the water, and flake the fish.
Whir together the pesto as described above.
Drain the pasta when done, and mix with the pesto, roasted Brussels sprouts, and flaked fish.
Serve immediately. Serves two people as a whole meal, but is easily multiplied for more.
Enjoy!