Recipe: Ellie's Autumn Curry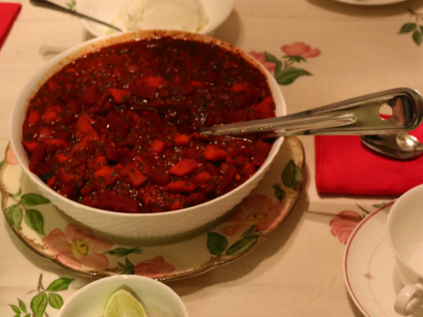 Ellie is my niece; she is my husband's brother's daughter. You can see her with beet juice on her hands below, This autumn curry of hers was awesome. She says it is actually called "Red Lentil Dahl with Root Vegetables." She serves it with butter, limes, and Greek Yogurt. We all had seconds. She says the roots in it help you feel grounded (pun intended.)
Ellie's Autumn Curry
butter
1 tsp paprika
1 1/2 tsp turmeric
1 onion, chopped
2 cloves garlic, minced
1 tsp fenugreek seed
1 tsp cumin seed
1 tsp fennel seed
1/2 tsp celery seed
salt and pepper
4 carrots (two cups) chopped
2-3 beets (1 cup) chopped
1-2 sweet potatoes (1 1/2 cup) chopped
1 cup red lentils
3 1/2 cups vegetable broth
bunch of cilantro or parsley
limes
1/4 tsp cayenne
Greek Yogurt
 
Toast paprika and turmeric in dry pan then add two tablespoons of butter. When butter is melted cook the onion and garlic until transparent. Add all seeds and salt and pepper and cook 2 minutes. Add two more tablespoons of butter. Stir in carrots, beets, and sweet potatoes, and allow to cook, stirring a couple minutes. Then add the red lentils and the vegetable broth and cook uncovered for 30-40 minutes.
 
Add a large handful of cilantro or parsley, the lime juice, and the cayenne.
 
Serve with butter, Greek yogurt, and more limes on the sides.