Day 1: Creative Arts Camp 2009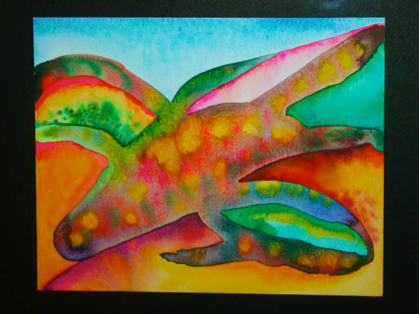 Long Lake is lovely, and the brisk, misty morning starts early. (See my photos at dawn near the bottom of this post.) The food and the fellowship is great. My class meets in the art studio which is so close to the lake, the water almost laps against the porch supports. We face late afternoon light and the clammy interior of the studio is only slightly helped by space heaters.
There are just three students in my class on Abstract Painting. We had twelve in this same space last year studying traditional watercolor. Other classes here, like drawing and photography, are fully subscribed so one cannot just blame the economy for this low enrollment. Apparently a lot of people find abstract art either hard to access or irrelevant. I find it just the opposite.
I have a talk with one of these doubters at breakfast and find myself saying that representational art is the study of matter and abstract art is instead the study of spiritual sense. Which to you is more real? To me, realism is inappropriately tagged to the replication of a material sense of things. Reality to me is spontaneity, balance, nuance, unity, expression, thought, intention, and pure being.
What a privilege it is to spend days with a select few that get this! My teacher is an esteemed professor who recently retired after 40 years of teaching college art. The other woman in the class, Toni, is also my cabin-mate. From Long Island, she is a newcomer to abstract art, but delightfully receptive to the process. Brad, from New Hampshire, Florida, and California, slings paint in his garage. Like me, he loves Hans Hoffman and Kandinsky, and is passionately eager to paint. All four of us take this opportunity to learn together seriously.
We talked about how unity in an abstract painting is achieved, since often elements are of equal priority and there is sometimes no focal point. Unity comes about by either creating a congruency (like all parts of the orchestra following a conductor to create harmonious symphonic sound) or by contrast (as in a conversation between elements in a painting.)
We talked about the four aspects of color: 1) hue (as in color family on the rainbow), 2) value (how light or dark it is), 3) intensity (how much pigment is in there – how bright or dull it is), and 4) temperature (whether the color is warmer or cooler.) We discussed the use of "motif", which is the repetition of a similar element, and is a new, tentative word in my vocabulary, but something I often do intuitively in my work. We examined the role of simplifying elements in a painting, editing elements, and exaggerating elements, as well as the need to bring out the energy beneath what we are seeing, with the use of rhythm and repetition.
We started with demos and small exercises in the morning and painted larger in the afternoon. We were to vary the color in every shape and line. You can see my day's efforts above and below. I like the simple, quick one below the best.
After dinner, we have a camp-wide meeting of inspirational readings and testimonies. Some of the ideas shared were:
chaos is an incomplete understanding of a larger whole

a child or a work of art is a revelation of a whole and complete idea

we know when our work is from God when it is free of self, fear or lack.

The subtle difference was brought out between God as Maker and God as creator. (One is capitalized and the other not.) When you make something, you make it out of something. In Genesis I, "God made man in his own image and likeness." We are made out of God's substance. On the other hand, when you "create," you create something where there was nothing before. In Genesis II "God created man out of the dust of the ground." We are here making art, rather than creating anything. All ideas are already present, so we are merely putting some together.

Heaven is here and now; we have never come down from our high estate nor do we have to wait to return to it.

"Be every thought by flesh unbound / Be every action Love." (a healing thought shared from a hymn)
This was followed by a concert from gifted songwriter and folk singer Lisa Redkin. She was also hysterically funny, so we trundled off to our sleeping bags in uproariously good humor.