Annual Meeting 2010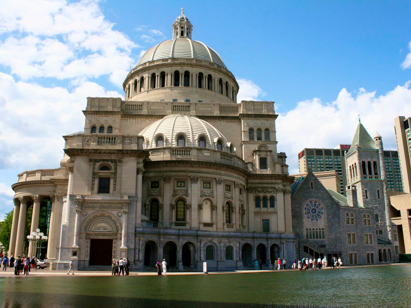 We had a good time attending the Annual Meeting at our church headquarters in Boston today. The theme was from Matthew's gospel: "the pearl of great price." We see the Christ consciousness as that pearl of great price, and the purpose of church is to safeguard that pearl. This is done in practice more than in theory, by "standing porter at the door of thought," and by constantly making choices about how we are thinking. It includes a larger sense of Deity, an understanding that we're eternal and immortal right now, and being freed from limited thinking. We are learning to heal, to love, and to be led by God.
My most profound moment at the meeting was slowly praying aloud the Lord's Prayer together with a couple thousand people. Wow! That was amazing. I was remembering how the founder of this church wrote that "we can unite with this church only as we are new-born of Spirit." This is not a one-time thing but must be ongoing in each of us. Two tidbits from the rousing hymns we sung together stood out to me: "The one far off divine event is now and that event is Love," and "ever, only, all for Thee."
They packed a lot of content in an hour and a half meeting, and it was fun to see friends there from all over. I've included here my photographs from today of our Mother Church, with its incredible architecture… In the photo below with other members attending from my local church, I'm on the far right. It was a gorgeous day.
What is your "pearl of great price?"