Savory Seafood Soup (Recipe)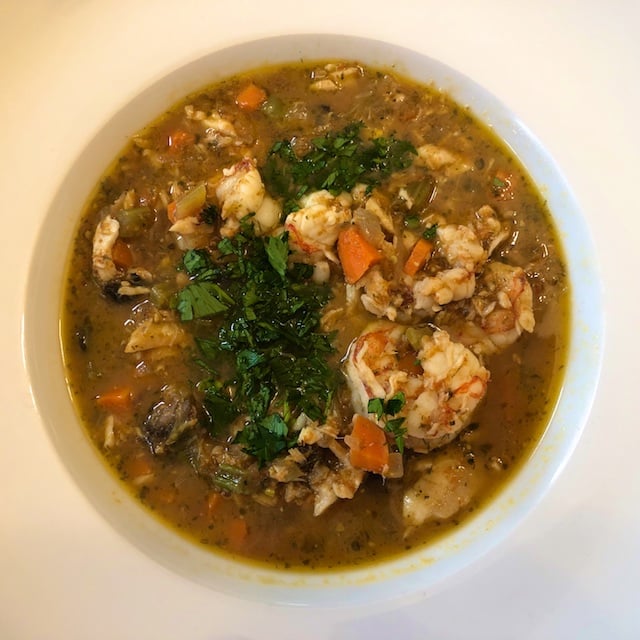 Every once in a while, I  just put a meal together on a wing and a prayer, and it comes out really good. When that happens, my family encourages me to go write it down quick, so they'll get to have it again. This soup is one of those.
It is flavorful and savory, but not spicy. It does not taste like any other soup. It's got a lot of protein, so sits satisfyingly in your tummy like a good meal after you eat it. And you are not bored eating it by the end of the bowl!
Plus, this is easy to make, the leftovers taste great to, and it freezes well.
Since I was just blitzing along using what I have in my refrigerator and freezer, some of these components you may need to translate into your own kitchen.
First, I used four (deseeded) lemon drop peppers, which I have a zillion of from our garden. They are pictured below, and they are between hot and mild, which is why I like them, and why we grow them. You could trade them off for two teaspoons of red pepper flakes, or two teaspoons of minced hotter or milder pepper of your choice.
Second, I used three frozen "pucks" of our homemade roasted tomato sauce, which is a flavorful thick sauce almost like tomato paste. You could substitute that for 1.5 cups of your favorite tomato sauce, the thicker the better.
Third, I wanted basil in this, and am not a fan of dried basil, so I threw in a frozen "puck" of my Vegan Pistachio Pesto. Any 1/3 cup of your favorite pesto would work fine.
Savory Seafood Soup Recipe
2 Tablespoons (plus one teaspoon) of avocado oil
1 large onion, diced
4 cloves crushed garlic
4 stalks celery, diced
3 carrots, diced
1 quart seafood broth
2 cups water
1.5 cups thick tomato sauce (I used 3 frozen homemade roasted tomato sauce pucks)
2 teaspoons red pepper flakes (or chopped, seeded hot peppers; I used 4 lemon drop ones)
2 teaspoons (plus a pinch) of sea salt (less is you are salt adverse)
1 teaspoon freshly ground pepper
1 teaspoon dried dill
1 teaspoon of fresh thyme
3 whole bay leaves
1/3 cup pesto (I used one frozen Vegan Pistachio Pesto puck)
8 oz mushrooms, sliced
4 stalks scallions, chopped
1/2 cup coconut milk
1 lb flakey white fish (I used tilapia- not from Asia)
1 lb shrimp, thawed, shelled, and deveined
fresh parsley, minced (for garnish)
Warm 2 tablespoons of avocado oil in a soup pot on medium heat.
Add the diced onion and crushed garlic, and cook until fragrant.
Add the diced carrots and diced celery, cooking until tender, about five minutes.
Add the quart of seafood broth, the two cups of water, and the tomato sauce. Also add the salt and pepper, dried dill, fresh thyme, bay leaves, and pesto. Allow to simmer for 30 minutes.
While the soup simmering, place a frying pan over medium heat with a teaspoon of avocado oil, and let it heat for 1 minute. Add the mushrooms, spreading them out for maximum contact with the heat. Sprinkle in a pinch of salt and turn the heat to medium high. Cook for about five minutes, stirring frequently. Add the chopped scallions, and cook for a minute longer.
Add the mushrooms and chopped scallions, coconut milk, and fish, and cook until the fish has flaked apart, about 10 minutes. Stir well, so all the fish is incorporated.
Then add in the shrimp in for 3 minutes to cook them until curled, being careful not to overcook them. Remove the bay leaves.
Serve hot, garnished with parsley.
Wow, right? Enjoy!